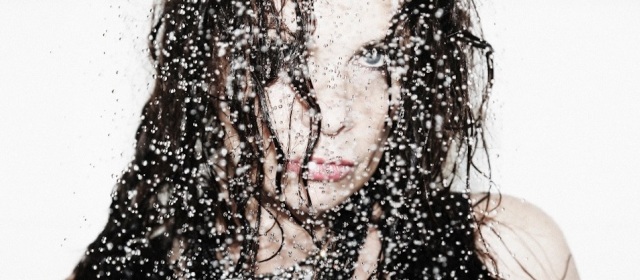 Welcome back to You Decide!
We are pleased and honored to announce our next special guest hostess, the incomparable Jane Badler, who will join You Decide Sunday March 17, 2013 at 5 PM Pacific time for an exciting live interview where you can call in at 773-897-6175 to chat with our one true Queen!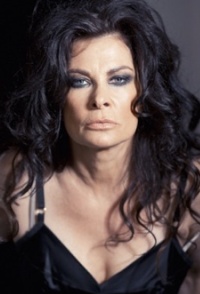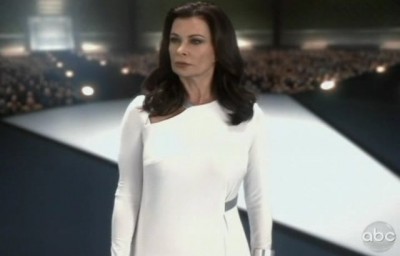 Famous for her dual roles as "Diana" in "V" (1983), "V The Final Battle" (1984) and "V the television series" (1984-1985) and her outstanding role as "Diana", Queen mother of evil Anna (Morena Baccarin) whom imprisoned poor Diana aboard her Mother Ship for many years!
Reptilian daughter Anna (Baccarin) was  seeking to enslave all of humanity on the Earth with humans as a source of food on our fair planet, while good queen Diana sought peace between the "Visitors"  and humankind in the epic 2009-2011 V Series on ABC!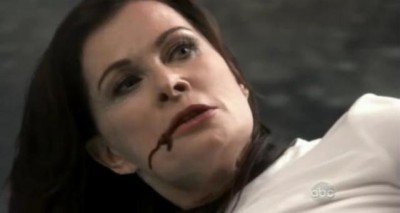 Who can forget one the most iconic bad girls in history turned good, only to be slain by her evil daughter Anna in the legendary V Series episode "Mothers day" as depicted above in our promotional news video?
Jane Badler may be best known for her roles in V Series, however, did you know this accomplished veteran actress is also a famous songwriter and singer dazzling live audiences in Australia?
We include one of my favorite Jane Badler songs (Wrong People) below for your enjoyment!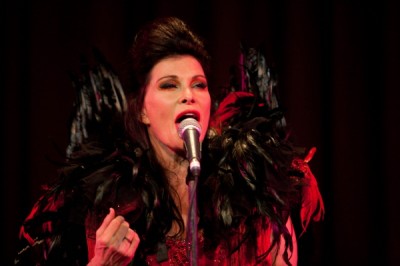 Jane has an incredible music career spanning many decades with a wonderful resurgence over the past decade! Ms. Badler loves singing Jazz, Cabaret, as well as Indie tunes, and more recently has excelled as a recording artist! Her last two albums 'Jane Badler With Sir / The Devil Has My Double' and 'Tears Again: Jane Badler With Sir' were widely marked by critics as brilliant works of musical art and we most certainly agree!
Named as "Album of the year" by the Sydney Time Out and rightfully referred to by Vogue Australia as "An American Marianne Faithful", Jane Badler has a melodic pleasing voice that has captivated the hearts of millions of fans around the world!
Jane Badler music career accomplishments include her nomination for the 'Best Female Artist' in the 2011 Age EG Awards for her album 'Tears Again: Jane Badler With Sir' featuring her poignant tales of betrayal, obsession and the surreal journey that is life. The hypnotic album is part electro pop part dark cabaret, featuring several successful singles that you can see on her official You Tube Channel!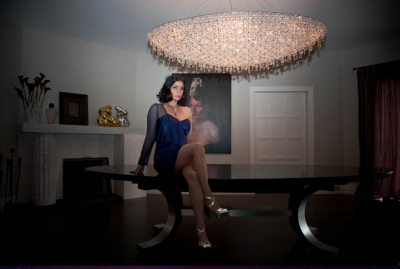 Admirers of Jane Badler will certainly recall her many television and theatrical accomplishments including her earliest role in 1977 in One Life To Live at the tender age twenty-four, of and two of my favorites, one on Fantasy Island in 1979 and her recurring role in the hit series Falcon Crest (1986-1987).
More recently Ms. Badler has been featured on The Jace Hall Show, a twenty-two episode recurring character, "Diana Marshall" on the long running Australian hit series Neighborsand OffSpring as a character named "Wendy" guest star of the program!

According to our sources, Jane is also working on several new stage and new entertainment roles that she will share with you her fans and everyone during her You Decide interview Sunday March 17, 2013 at 5 PM Pacific time!
We look forward to you joining Jane Badler for an exciting interview here on You Decide!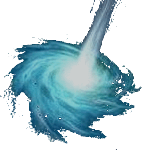 Please feel free to share this article with your friends, co-workers and or family. We would also appreciate your comments and look forward to you visiting in the future.
Or as many of our readers and visitors often do, visit WHR on Twitter, WHR on Facebook or visit me on Twitter by clicking the text links or images avatars in this news story. I and the WHR team look forward to Seeing You on The Other Side!"
Thank you.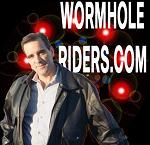 Best Regards,
WR_Systems (Kenn)