Welcome back to WHR Radio Where You Decide!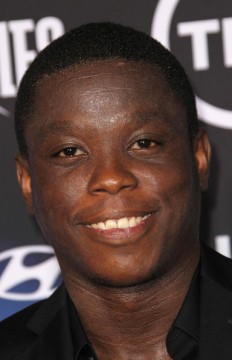 We are pleased to announce our next special guest host, the very talented Mr. Mpho Koaho of Falling Skies who will join us Sunday April 22, 2012 6 PM Pacific, 9 PM Eastern time to discuss his human interest topic, Apartheid in South Africa,  in an exciting interview about his career experience as an actor.
South Africa is a country of fifty million people with the dubious distinction of maintaining one of the longest lasting racist policies in the world. In 1651, Dutch settlers arrived in South Africa. They brought with them a sense of superiority to the native inhabitants and through the next two hundred years, they imported slaves from West Africa, Malaysia and India. Called Boers, Dutch farmers took the land that the Bantu and Khoi peoples used for their cattle and sheep, forcing them to now have to work on the farms to support themselves.
By 1867, the same year that Canada became a Confederation, diamonds were discovered, and diamond mining began in earnest. Black Africans were given the most dangerous jobs and paid the lowest wages. Oppressive conditions and constant surveillance kept the Black African population from organizing for better wages and working conditions.
Sadly, the lucrative slave trade from Africa, including South Africa was not only the purview of the White Europeans and Americans. Some Black Africans were complicit. Human lives were often traded for firearms. Weapons increased political power among Black Africans, which increased status. However, the long term effect of this was a retardation of African demographic development. At best, African populations remained stagnant. The export of young men and women led to the disintegration of entire societies.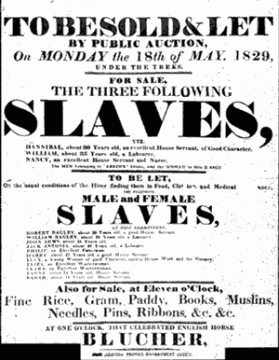 As a British Commonwealth country, South Africa benefited from British laws, but also experienced difficulty adapting to a non-slave culture when slavery was abolished officially in 1834. Dutch farmers complained that they required the slaves to be able to make any money from the sale of their produce. Without the use of slaves, they were certain that they would not be able to remain in business.
Even with laws now against slavery, unequal treatment remained in South Africa. As in the United States, segregation was common throughout the country. The term apartheid (from the Afrikaans word for "apartness") was coined in the 1930s and used as a political slogan of the National Party in the early 1940s. After the primarily Afrikaner Nationalists came to power in 1948, the social custom of apartheid was systematized under law.
No one is born hating another person because of the colour of his skin, or his background, or his religion. People must learn to hate, and if they can learn to hate, they can be taught to love, for love comes more naturally to the human heart than its opposite.
~ Nelson Mandela
– Long Walk to Freedom (1995)
The implementation of the policy of Apartheid, later referred to as "separate development," was made possible by the Population Registration Act of 1950, which put all South Africans into three racial categories: Bantu (black African), white, or Coloured (of mixed race). A fourth category, Asian (Indians and Pakistanis), was added later. The system of apartheid was enforced by a series of laws passed in the 1950s: the Group Areas Act of 1950 assigned races to different residential and business sections in urban areas, and the Land Acts of 1954 and 1955 restricted nonwhite residence to specific areas. These laws further restricted the already limited right of black Africans to own land, entrenching the white minority's control of over 80 percent of South African land. In addition, other laws prohibited most social contacts between the races; enforced the segregation of public facilities and the separation of educational standards; created race-specific job categories; restricted the powers of nonwhite unions; and curbed nonwhite participation in government.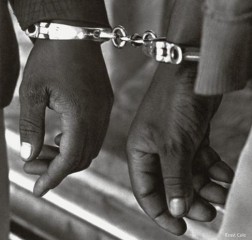 For white South Africans the 1960s was a decade of boom and unprecedented prosperity. For black South Africa, the 1960s saw apartheid harden into its most dogmatic and racist form. Ernest Cole, born Kole, was probably the finest documentary photographer of his generation. His outstanding photographic record of what it was like to be black in Verwoerd's white republic form the heart of the Apartheid Museum exhibit in Soweto: http://www.apartheidmuseum.org/life-under-apartheid. The photographs, which Cole took into exile in the late 1960s, were published in his book House of Bondage, which was banned in apartheid South Africa.
The earliest challenges to apartheid came from a new generation of black youth who came of age in the 1960s. Inspired by leaders such as Bantu Stephen Biko, they gave voice to a philosophy of black psychological emancipation, black pride and black self-assertion.
Apartheid was also denounced by the international community: in 1961 South Africa was forced to withdraw from the British Commonwealth by member states who were critical of the apartheid system, and in 1985 the governments of the United States and Great Britain imposed selective economic sanctions on South Africa in protest of its racial policy.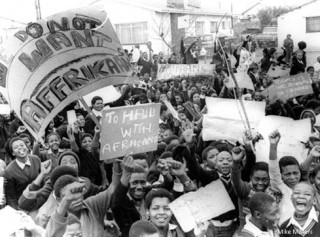 16 June 1976 was a major turning point in South African history. The protests by Soweto school children on that day marked the end of submissiveness on the part of the black population of South Africa and the beginning of a new militancy in the struggle against apartheid. South Africa would never be the same again. From June 16 1976 onwards, South Africa's youth took centre stage. They would remain in the forefront of resistance to apartheid, alongside an increasingly powerful trade union movement, until the unbanning of political organisations in South Africa in February 1990.
The turning point of recent South African history was 1987-90. By this time important overtures to peace had already been made. In 1987 a powerful non-government delegation had held talks with the ANC (African National Party) in Dakar. In 1988 Nelson Mandela, who was still in prison, had issued an invitation to the government to negotiate an end to apartheid. By early 1989 the non-racial mass democratic movement had swelled and returned to the streets. Then in August 1989 F W de Klerk replaced the hardline P W Botha as president.
As antiapartheid pressure mounted within and outside South Africa, the South African government, led by President F. W. de Klerk, began to dismantle the apartheid system in the early 1990s. The year 1990 brought a National Party government dedicated to reform and also saw the legalization of formerly banned black congresses and the release of imprisoned black leaders. In 1994 the country's constitution was rewritten and free general elections were held for the first time in its history, and with Nelson Mandela's election as South Africa's first black president, the last vestiges of the apartheid system were finally outlawed.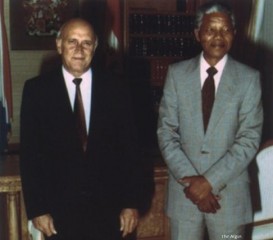 The greatest glory in living lies not in never falling, but in rising every time we fall.
~ Nelson Mandela
– Long Walk to Freedom (1995)
Life in South Africa after Apartheid is not exactly idyllic. It has become one of the most violent countries in the world. Soweto, the most legendary of South Africa's former townships, is not a slum, but a major city in itself. A city with no downtown and with brand-new shopping malls and outdoor cafés, it resembles a smaller version of Los Angeles. A carpet of densely packed houses and huts stretches to the horizon. On the northeastern edge of Soweto lies the massive structure of the Baragwanath Hospital, where, on bad days, more people with gunshot wounds are admitted than in Kabul or Baghdad in a week.
More than 50 murders a day are committed throughout the country, which comes to more than 18,000 a year, a woman is raped every few minutes, and someone is robbed every few seconds. In Germany, which sees 2,000 murders a year, such numbers are inconceivable. But South Africa doesn't need to compare itself to Germany or Europe. After all, the country has enough to worry about on its own. Old differences live on between whites, blacks and the mixed-race population known as "coloureds," and wealth remains unevenly distributed. There are not enough schools and not enough judges, jobs are in short supply and, in many places, there is not even enough water or electricity.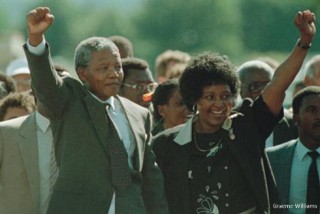 Despite the violence, South Africa after Apartheid  is a new country. Millions of people there are better off than ever before. Many blacks have become affluent, and many others have at least escaped bitter poverty and are on the road to achieving halfway decent living conditions.
It is also important to realize that violence is no longer enshrined in the law, and to recognize the miraculous fact that the long-oppressed majority did not savagely attack its former oppressors, but instead followed its leaders on the road to a painful and bitter reconciliation. Finally, despite all the setbacks that South Africa experiences from one day to the next, it is important to point out the many minor and major victories that are achieved on a daily basis.
South Africa still has many challenges to face, but that can be said of many countries. With a will for peace and prosperity, and an effort by the government and community organizations to improve life for those affected by disease and violence in South Africa, there is reason for hope. There is always reason for hope.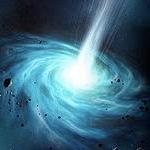 Thanks to Kenn for staging the audio in this post for me, and thanks to you for stopping by WormholeRiders News Agency! We hope to see you all for our interview: Mpho Koaho this Sunday 6 PM PST 9 PM EST
Please feel free to leave a comment here, click an icon below to share this interview, or you can visit and follow me on Twitter by clicking on my avatar to the right.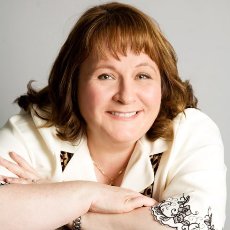 Regards,
Thank you.
ArcticGoddess1 (Patricia)