Welcome back to You Decide!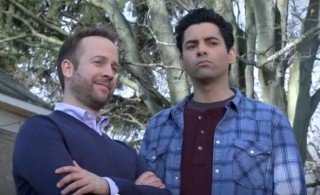 We are please to include our exclusive interview conducted Friday, May 24th at 10:00 AM Pacific time, when we were honored to bring to you a fun chat with Teddy Wilson, host of Space Channel's very popular show, Innerspace! and the new hit series "Never Ever Do This At Home!"
Already airing to rave reviews on the Discovery Channel Canada, and premiering on May 28, 2013 on Spike TV in the United States, Never Ever Do This At Home is a fun program about everything you might want to try at home, but were afraid it would blow up your house!
The exciting new series, which has been green lit for thirteen episodes show stars a friend we have admired and worked with at conventions for years, Teddy Wilson and his partner in home destruction, Norm Sousa.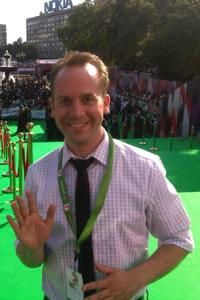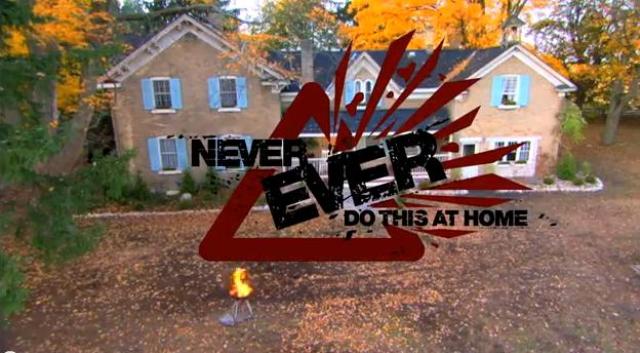 In each episode, the two dangerously under qualified hosts attempt to discover what would happen if they not only ignored the warning labels on common household products, but did the exact opposite!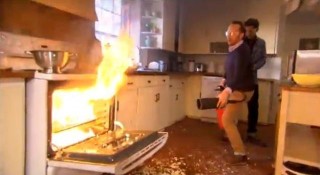 As recently stated on the Discovery Channel web site, "don't most people – secretly – want to know what would happen if they ignored the safety warnings? "Why can't she garden with explosives, or heat tin cans directly on the stove? Why shouldn't he flood a second-floor room to test its threshold, or make moonshine in the garden shed?"
As Wilson and Sousa test these "nevers" and more, staging elaborate trials using conventional products, household appliances, volatile gases, and professional-grade explosives – essentially whatever they can get their hands on – they reveal the extreme dangers lurking behind commonplace warnings.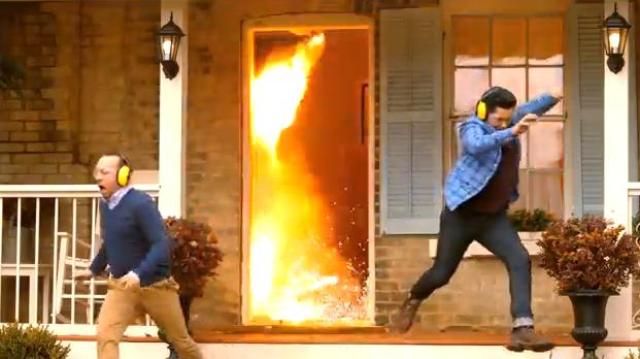 Never Ever Do This At Home also features a team of special effects and fire safety professionals, plus experts from various fields of demolition, chemistry, and radiation, to maximize the consequences – and keep Wilson and Sousa out of harm's way (most of the time…).
With 20 cameras capturing every angle – including highly-specialized "Phantom Cameras" that can record 2,650 frames per second for the ultimate in slow-motion replay — the series showcases the legitimate physics and chemistry behind the outrageous cause-and-effect consequences of Wilson and Sousa's experiments in stunning visual effects detail!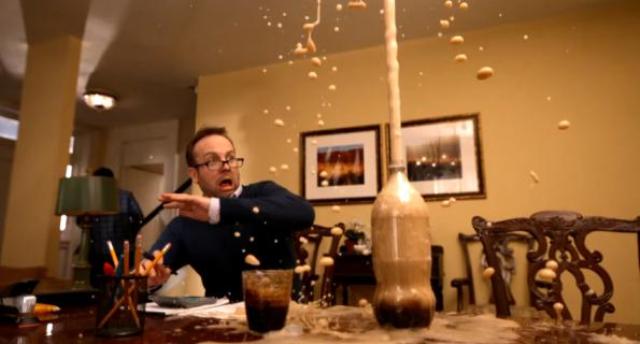 Never Ever Do This At Home is produced by Insight Productions, a company that has produced comedy, drama, specials, reality television, sports and game shows for over thirty years.
The production is in association with Discovery Channel Canada and Bell Media based on a format devised by Norwegian Broadcaster, NRK. Executive Producers are John Brunton and Barbara Bowlby. "These guys are going to throw common sense out the window and we couldn't be more thrilled", said John Brunton, "we're going to see their genuine reaction from these reckless experiments, and the only thing that we can safely predict is hilarity."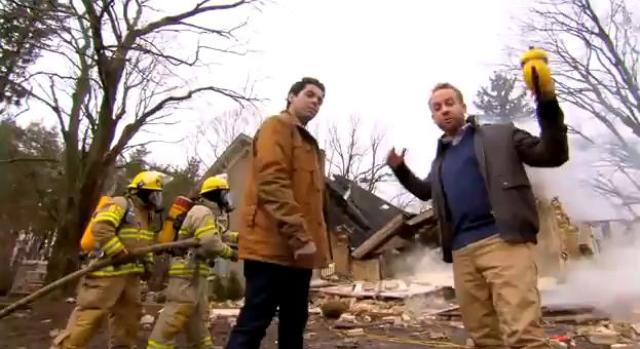 I can already tell viewers that my adult sons love this show. As a mother, I can only hope that Teddy and Norm keep their eyebrows until the series ends!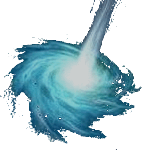 Thanks to Kenn for video embedding and final staging of this news article, and many thanks to you for stopping by WormholeRiders News Agency! We look forward to seeing you for our exclusive interview with Teddy Wilson this Friday at 1:00 PM Eastern and 10:00AM Pacific!
Please feel free to leave a comment here, click an icon below to share this interview with your friends, or you can visit and follow me on Twitter by clicking on my avatar to the right.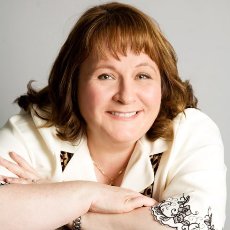 Regards,
Thank you.
ArcticGoddess1 (Patricia)