Hey Stargate and Farscape Fans!
Day one of the Creation Entertainment Los Angeles Stargate and Farscape convention has come to a roaring close! Held at the Marriot Hotel and Conven
tion Center a hop, skip and a jump from LAX, and based on our observations and discussions with fans, a truly wonderful time was experienced by all, including this reporter!
A companion Day One Farscape convention report has been being prepared and are now in final proof. Fargate publication is just around the corner , so come back soon!
However, prior to reviewing the first day of Los Angeles Stargate,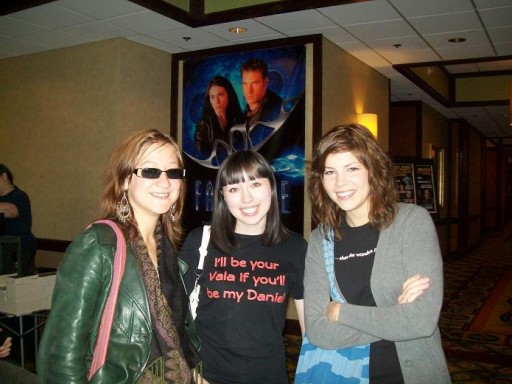 this reporter would like to extend a hearty well done and bravo to ValaBlack and MeaganSue, our newest reporters from Canada and Arizona for their professional deportment and presentation at Los Angeles Farscape Stargate Convention! Many thanks to MeaganSue and ValaBlack (pictured with friend from France!)
Oh, and did I forget to mention…. that all of us had nothing but absolute fun on the first day of the convention? Well, if I did, please let me correct that impression immediately!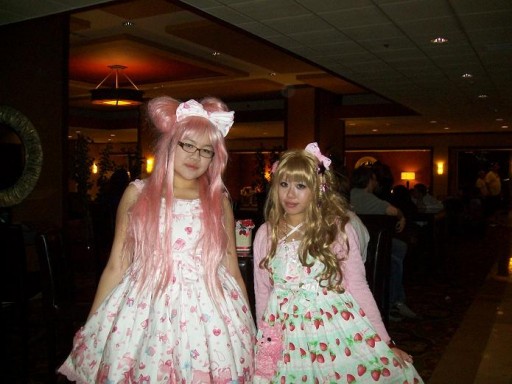 As we have reported many times in the past, the "fun" we experienced is thanks to (once again) the fantastic efforts of the team of dedicated professionals at Creation Entertainment!
Creation who you ask? Well, we will answer that question, but we must share with you that if you do not know who the dickens Creation Entertainment is, we respectfully and sincerely suggest that perhaps you may clicked the wrong link and you should go back to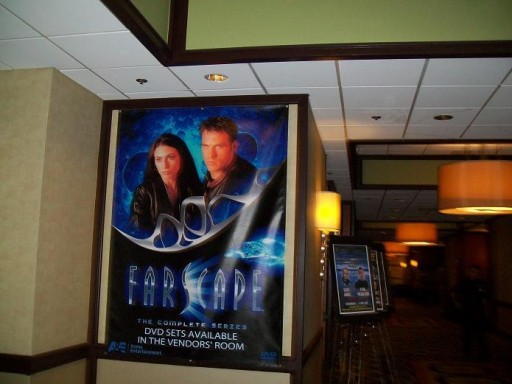 whatever pitiful planet you came from that is devoid of the wonderful Stargate and Farscape conventions hosted by Creation Entertainment! Let me get that gate address for you!
Seriously folks, as all Stargate, Farscape and so many other fandoms know, Creation Entertainment is the provider of excellence when it comes to providing an outstandingly intimate experience for the fans! As you know, we have reported from the larger events of the likes of Comic-Con's Alternative Press Exposition in San Francisco, had staff at San Diego (stand-by a news surprise coming soon for you), and of course our extensive coverage of Dragon*Con 2009 held in Atlanta Georgia earlier this year. Now do not get us wrong, these larger events are fun and exciting too. We like all the fans whom attend, love these larger events. But they are a different animal that Creation Entertainment Conventions!
It is simply this fact: Creation Entertainment provides such a unique intimate experience that is very rarely duplicated in the science fiction convention area anywhere in the world! If you have never attended a Creation event, this reporter suggests that it is something every science fiction fan should experience at least once in their lifetime!
We cannot possibly thank every person individually from Creation Entertainment, such would be impossible within the scope of this report. However, kudos are certainly in order for the entire Creation Team and the professional manner that our reporting team was treated! It is the genuine people of Creation that make their conventions something special! People like Gary, Monica, Valerie, Stephanie, and so many others, we not only thank you, we have nothing but praise for the quality of what we experienced in Los Angeles today! Great job Creation!
As we think back over the nature of today's Stargate Los Angeles event, today was indeed "So LA and so intimate" with 'local' talent (Cliff Simon) and a neighbor to the north Canada with the likes of no less than Ryan Robbins of Stargate Atlantis and Sanctuary! We will publish our detail report on these two fine actors after the convention per our normal process, but the time invested with these two stars was well spent and most enjoyable!
First up after registration and check-in was Ryan Robbins! And yes ladies we ca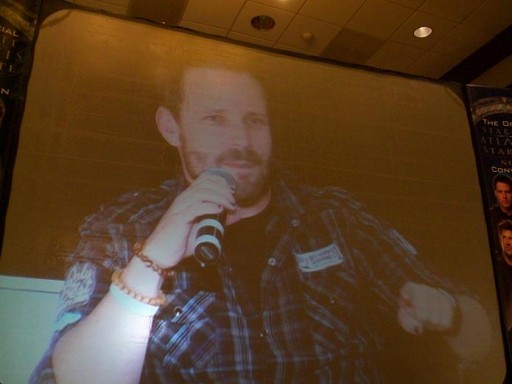 n confirm that a shrewd fan asking about Ryan's "jewelry" has exposed what many already new, and Ryan confirmed it himself! He does have body piercings and was kind enough to also share that it hurt like anything. Ryan also shared with us the great time he is having on Sanctuary working with Amanda Tapping. Thank you Ryan, we truly enjoyed the afternoon panel! More on Ryan Robbins in the near future!
Next up for Stargate fans was Cliff Simon, the infamous Ba'al! And do we have news for you fans. We had the real thing, no clones! And were we happy about that. Cliff shared not only memories of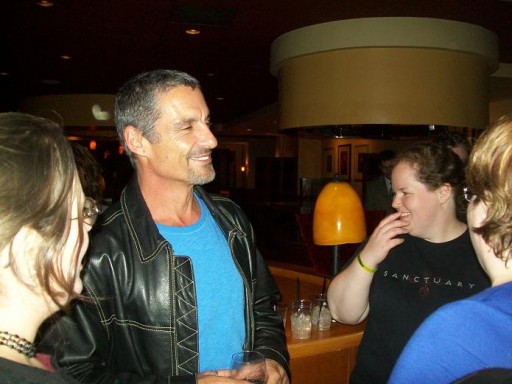 Stargate, he also shared much with the fans about how he came to America from South Africa. Unfortunately, we missed the first few minutes of this panel, but another Stargate fan was kind enough to take notes during a reporters meeting just prior to the panel! We will have a detailed report on the wonderful Cliff Simon and the great work he does helping abused animals! Great stuff Cliff! Thank you.
While these two event were most enjoyable, Creation project management treated the fans once again to Starhole and the Karaoke Caberet as well as Fargate for the Farscape fans (more on that from ValaBlack and MeaganSue), the latter being th
e best example of stars mingling with their fan as real people just like you and me.
As convention fans who attended the official Stargate convention, Gary Jones accompanied by Dean Hagland and guests recruited from the audience brought the house down with merriment and laughter.
Another sublime hi-light to close our initial review of Friday Stargate activities is the famed Creation Entertainment Karaoke Party. Held after all of the events have completed, the Creation Team, the fans, and two great people Cliff Simon and Ryan Robbins were
nice enough to top by the party to the sheer delight of their fans! While mingling with the guests of the convention (that's us by the way), Cliff and Ryan were clearly enjoying themselves! Based on how long they stayed and chatted intimately with many fans, it was clear they were having as much as the fans themselves! We were quite overjoyed and honored that both Cliff and Ryan spent a considerable period of time with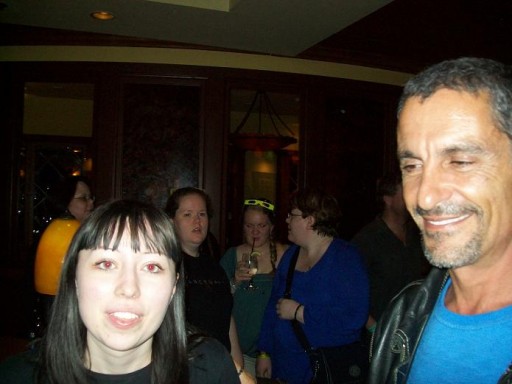 our staff. It was truly a wonderful way to end a great day! Our sincere thanks to Cliff and Ryan for being so generous, warm and friendly! YAY!
We will have much more Stargate on Gary, Cliff and Ryan coming soon! First w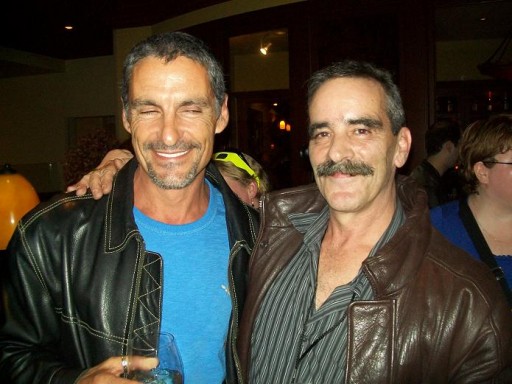 e need a little sleep to prepare for Stargate Saturday as Creation has nearly outdone themselves with no less that five guests scheduled including Ben Browder, Gary Jones, Paul McGillion, Joe Flanigan and special guest Martin Gero, writer, director, and Executive Producer of Stargate Atlantis as well as being a writer and consulting producer for the new Stargate Universe!
Thanks for reading. Please free to leave a comment here or visit me on Twitter by clicking my avatar to the right. Thank you.
Best Regards,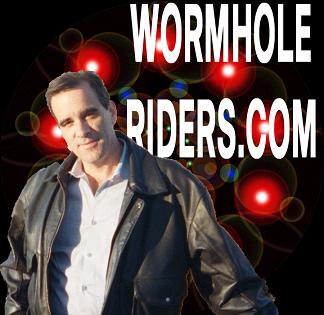 WR_SYstems (Kenn)