Welcome back WormholeRiders, Project Blue Book, and San Diego Comic-Con Lovers!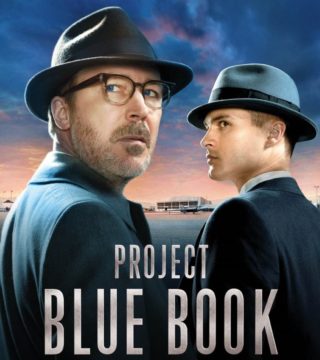 Yay!  The long awaited season two premiere is finally here, tonight January 21, 2020 on The History Channel!
Although Project Blue Book is one of  Team WHR's most favorite science fiction fact based series, due to a previously agreed studio commitment, we were unable to attend their gala events at San Diego Comic-Con in 2018. It gutted our team that we could not see the panel or visit with the cast during SDCC week in San Diego that year.
In 2019 we made certain that things we going to be different and reached out to A&E Studios public relations. The studio public relations team was gracious to ensure that we would have seating assigned to allow our team to visit with the superb cast and creators at their panel on July 20, 2019.

The Project Blue Book panel was an absolutely amazing event, nearly an hour long featuring creators David O'Leary, Sean Jablonski and series stars Aidan Gillen, Laura Mennell, Michael Malarkey and Neal McDonough.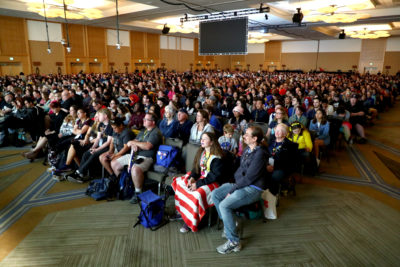 Each of the wonderful Project Blue Book panel guests revealed their thoughts on where the superb series has been, and what fans can expect to be forthcoming in season two.
The completely packed Indigo ballroom at the Hilton Bayfront Hotel did not have a single seat available, with all in attendance on the edge of their seats!

We include virtually the entire Project Blue Book panel hosted by Damian Holbrook below for your enjoyment!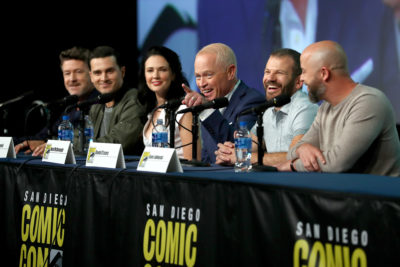 Based on real events from United States Air Force files, the series features a stellar cast offering a refreshing look at the UFO phenomena as seen on Ancient Aliens. The series creators describe Project Blue Book below.
"As the Cold War deepens and the new political threats loom for Project Blue Book, Dr. Allen Hynek (Aidan Gillen) and Captain Michael Quinn (Michael Malarkey) must delve further down the UFO conspiracy rabbit hole in their dangerous quest for the truth. Soon, cover-ups from the past (including at Roswell) collide with new UFO cases in the present (including at Area 51), forcing our duo to not only question the multi-faceted layers to a broadening global conspiracy, but the very nature and origin of UFOs themselves in an increasingly unstable world."

Season two opens tonight with one of the greatest mysteries of all time, the Roswell UFO incident crash in 1947 that has resulted in a cult following regarding the alleged United States Government connection to Area 51 UFO sightings and the long suspected coverup about aliens on Earth!
The season wto premiere dovetails the season one finale where UFO's were witnessed over Washington DC Make certain to tune to the History Channel at 10:00 pm eastern time each week to catch all ten episodes in season two!
Stay tuned as the WormholeRiders News Agency (TeamWHR) announces more of our ongoing video interview and panel series during 2020 and beyond in the future!
In the meantime, please feel free to share this article with your friends, co-workers and or family by clicking one of the icons below. We thank you for visiting and express our sincere gratitude for doing so!

Feel free to visit TeamWHR on Twitter, or visit me on Twitter by clicking the text links or images avatars in this news article. I and Team WHR look forward to Seeing You on The Other Side in 2020 and beyond!

Thank you.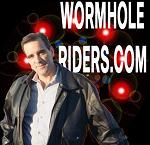 Best Regards,
Kenn