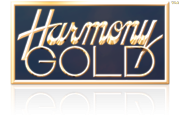 Hello Joss Whedon fans!
On June 25th 2011, I had the pleasure of attending 2011 "Can't Stop The Serenity" Los Angeles at the Harmony Gold Theater in Hollywood. Can't Stop the Serenity has been providing us a pretty awesome way to give to charity while enjoying the phenomenal work of Joss Whedon since 2006. Last Saturday night was the first time I was able to attend one of these events and it was wonderful!

The event in the Los Angeles area this year included screenings of both "Serenity" and "Dr. Horrible's Sing Along Blog" with the proceeds going to Equality Now, who's mission is to end violence and discrimination against women and girls around the world. We were honored to have Amanda Sullivan, Director of Equality Now's Women's Action Network, and Jessica Neuwirth, Equality Now's Chair and Founder, in attendance at the screening (click here to learn about the Equality Now Board and Staff).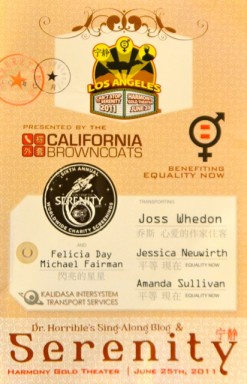 I was very excited to attend this event, not only because I love to sing Dr. Horrible songs at the top of my lungs in a theater full of fellow Whedonites, but because some of the special guests were Michael Fairman (he was so cool as Niska in Firefly), Felicia Day (she's so darn cute & you gotta love The Guild), and Joss Whedon (I may faint).
The doors opened at 5:00 PM and I heard that quite of few California Browncoats were lined up awhile beforehand. There was an exclusive meet and greet with Joss and other special guests for those that had tickets for it at 6:00 (JEALOUS). Unfortunately I didn't make it to the event until around 6:30. Don't look at me like that! It's not my fault! L.A. traffic is brutal!
I was sad that I made it in the door so late because I didn't have much time before the event to fraternize with other Browncoats (many of whom were dressed up as Mal or wearing a Jane hat). I made it just in time to buy a few raffle tickets and see a live music performance by the talented Shawn Tutt. After that, they auctioned off a framed River Tam & the Fireflies album and the super awesome signed Firefrog poster.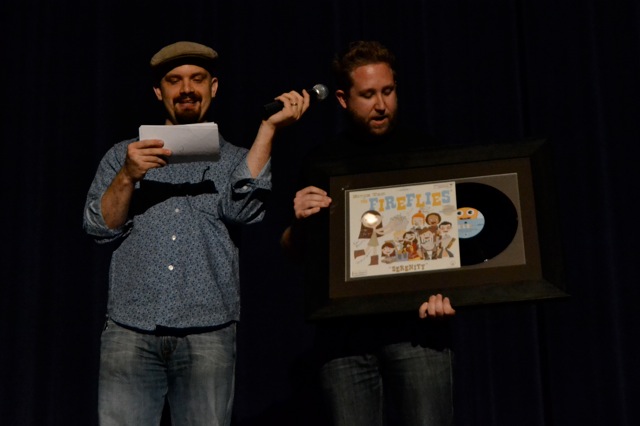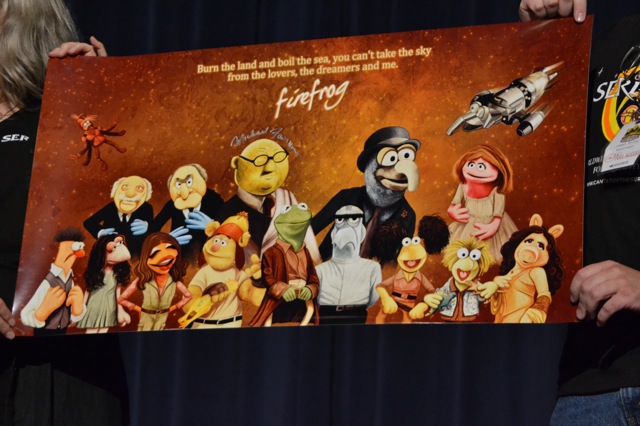 Jessica Neuwirth took the stage to tell us more about Equality Now and we watched an introductory video featuring Joss Whedon.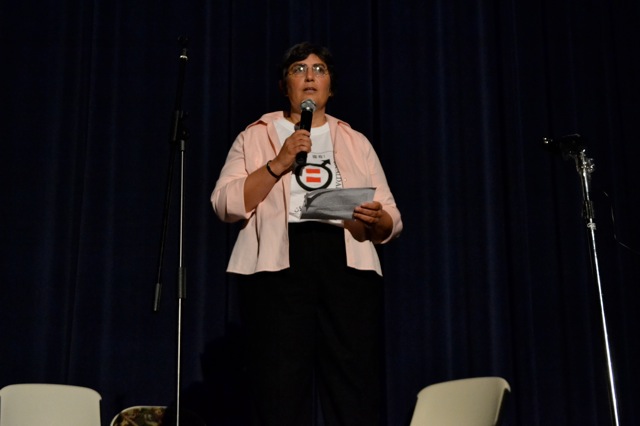 Then… JOSS WHEDON came on stage (CHEERS)! He really is SO cool.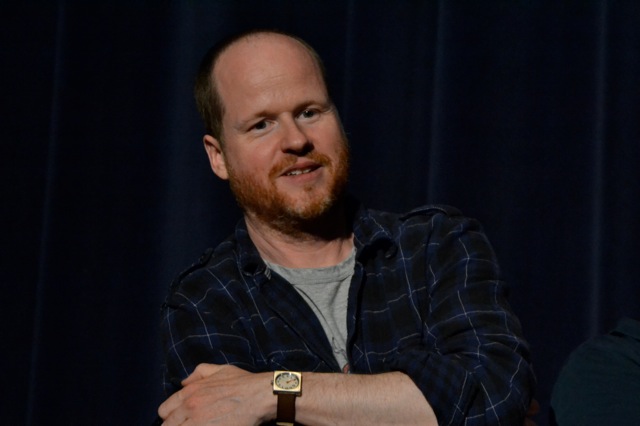 He's very laid back and REALLY funny. Michael Dougherty (writer and director of Browncoats: Redemption) and Heather Fagan (producer) joined Joss on stage and presented Equality Now with a $12,000 check from the proceeds of the Browncoats: Redemption movie. WOW!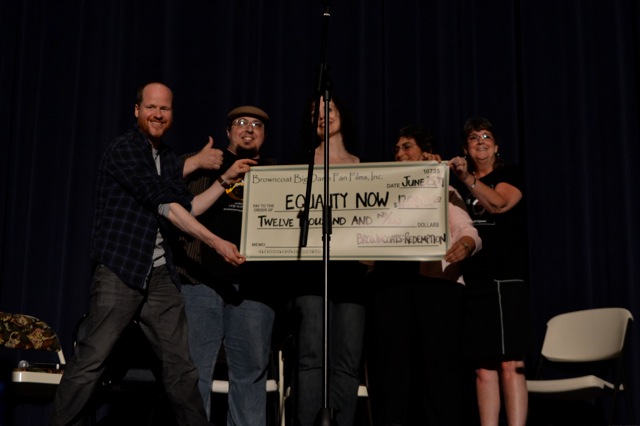 Next, the One True b!X presented the Griswald Trophy to Equality Now and Joss Whedon.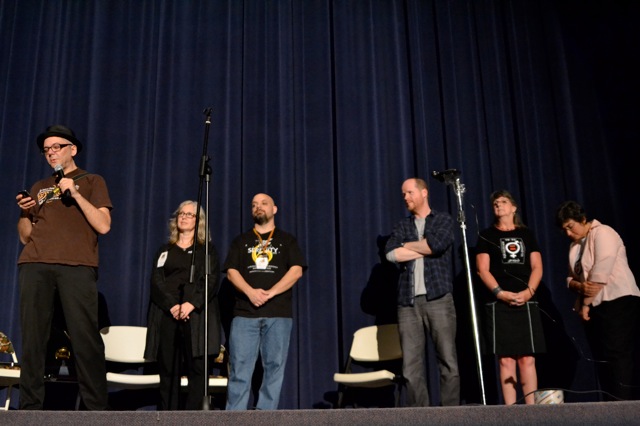 Now it was time for the Q&A with Joss, Felicia, and Michael Fairman! YAY!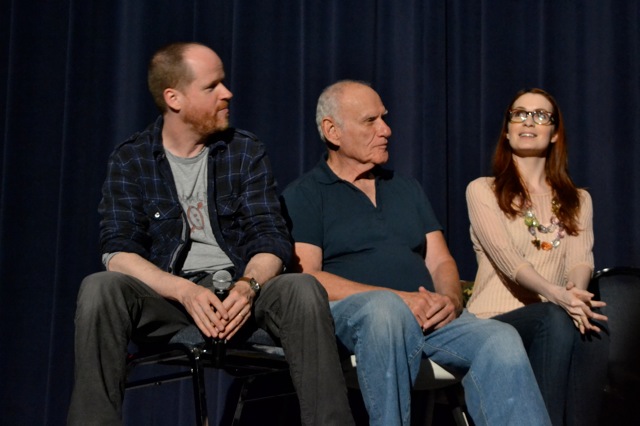 We were all very excited and then we heard that more special guests were also coming out for the Q&A (double YAY!) The first special guest was writer JANE ESPENSON! Jane spent five years as a writer and a producer on Buffy the Vampire Slayer. She is a highly intelligent and very personable woman (I hope to grow up to be just like her).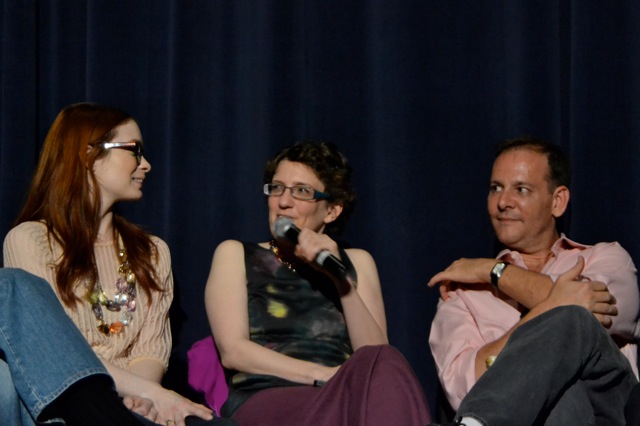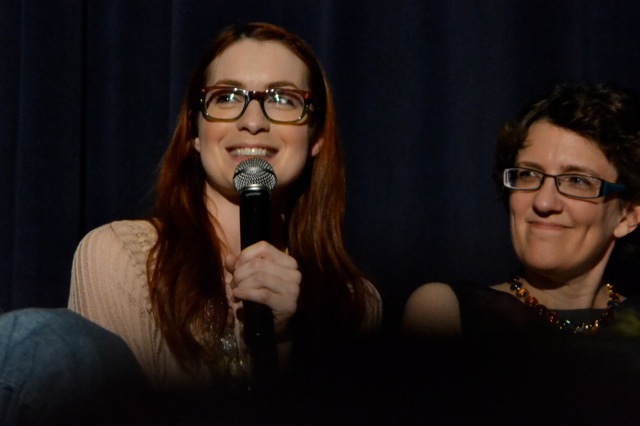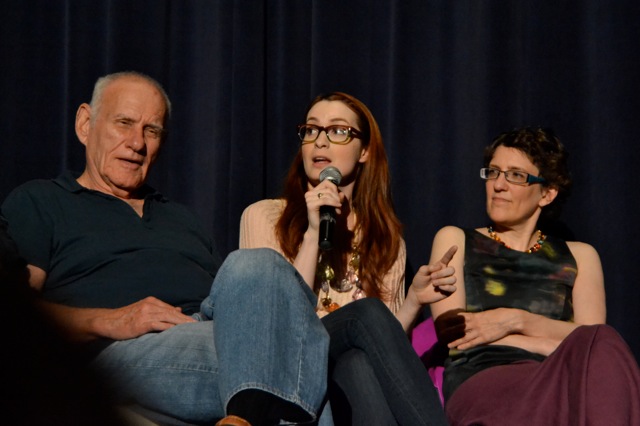 Our next surprise guest was screenwriter and director Tim Minear, who worked on Angel and Firefly. He's a pretty cool dude. Our final special guest was…. wait for it… NATHAN FREAKING FILLION!!! Cue screams from all the women in the audience! Yes, it's the man all the boys in the room want to be and the one all the girls want to be with.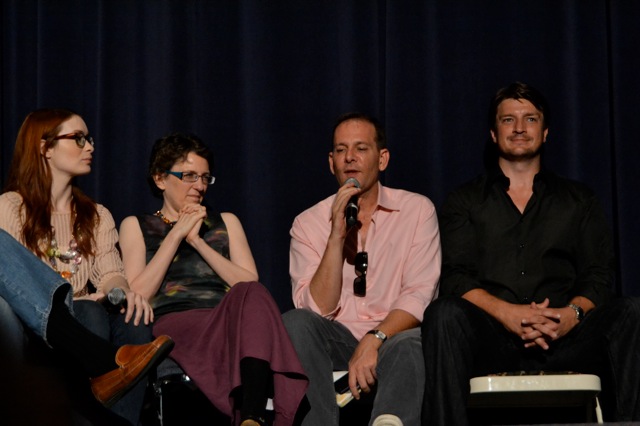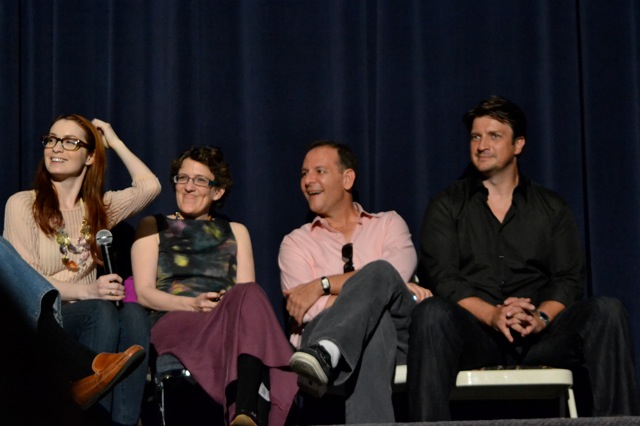 Besides being gorgeous, Nathan Fillion is HILARIOUS!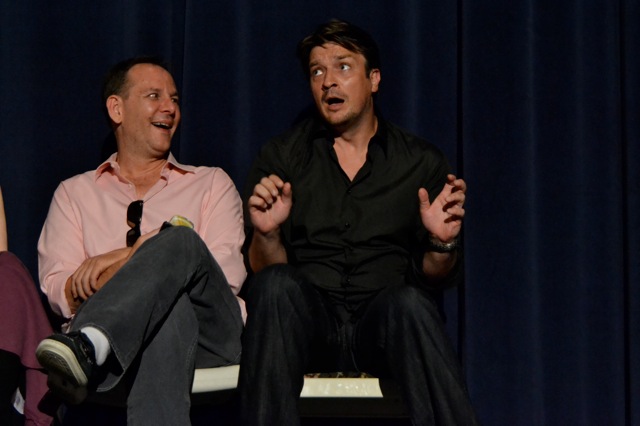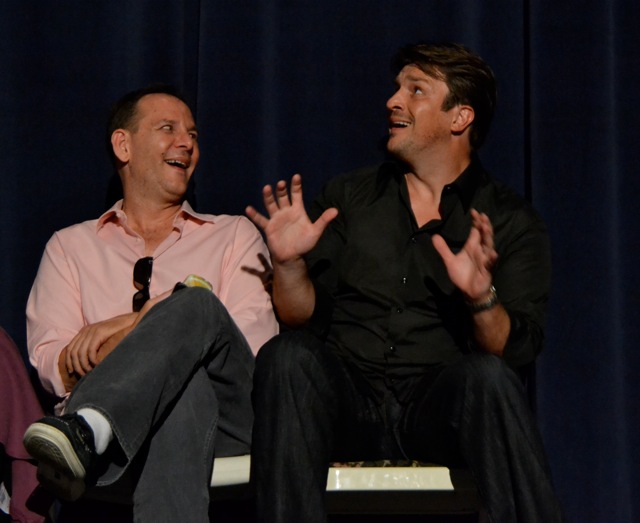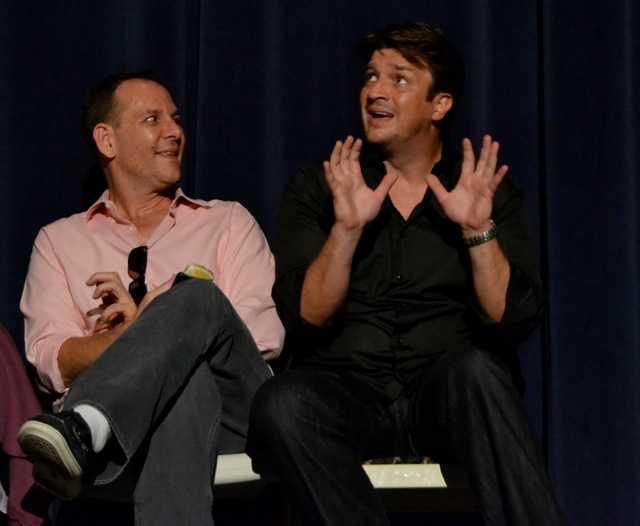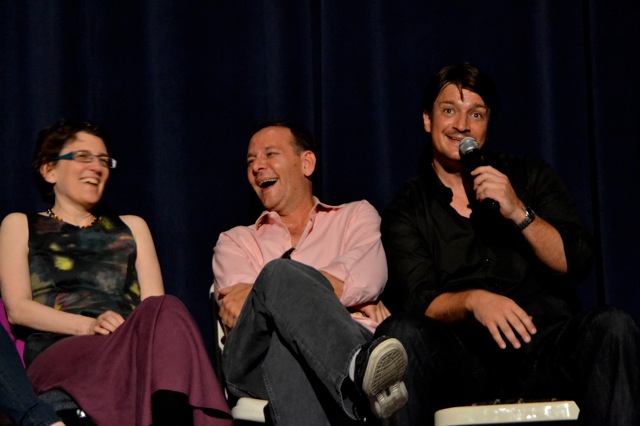 But don't just take my word for it check out the video from the Q&A below courtesy of Justin TV!

Watch live video from GeekWeek on Justin.tv
I personally think the funniest part of the Q&A was Jane Espenson's advice for college kids (snicker). The sweetest part was, after they were all about to leave the stage, Joss grabbed Felicia and gave her a giant hug.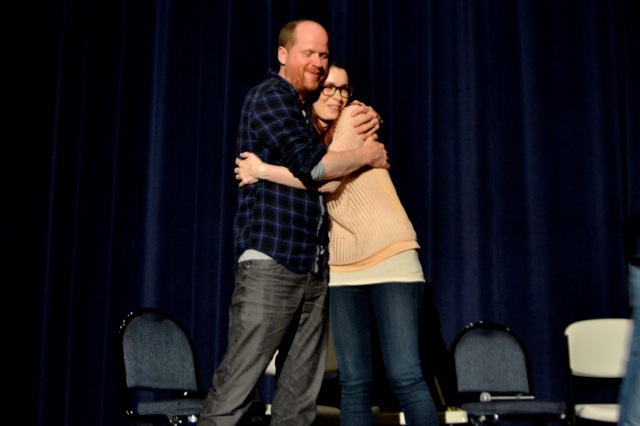 After the Q&A, was the screening of "Serenity". It was marvelous to see this movie on the HUGE screen at Harmony Gold Theater. My favorite part of the film is towards the end when Serenity breaks the atmosphere and heads straight towards the Operative's ships, who think they have Mal & co in the bag until a giant flock of Reaver ships show up chasing after Serenity.
Next, the winning raffle ticket numbers were announced and prizes were given out (I didn't win but I felt good that I had given to charity).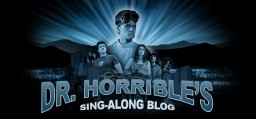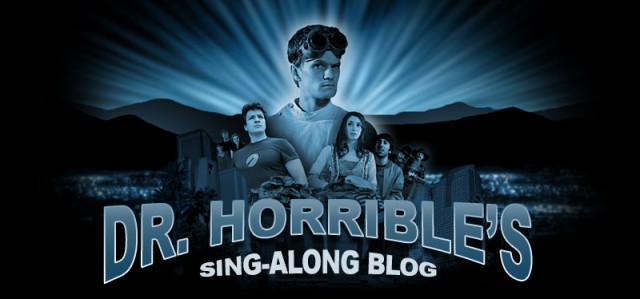 And finally it was time for "Dr. Horrible's Sing Along Blog". YAY!!! I sang my little heart out. Luckily for all, most people were singing and my SO-NOT-dulcet tones were drowned out (I apologize to those sitting nearest to me).
Afterwards, a ton of us ended up at Mel's Drive-in because singing works up quite an appetite! We finally hit the road back to San Diego well after midnight and I didn't get to bed until 4AM. It was SO worth it.
Thanks California Browncoats, Equality Now, and all the special guests for the awesome adventure!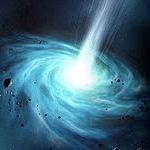 I hope you have enjoyed this news article about Can't Stop The Serenity. As always we thank you for visiting WormholeRiders News Agency. Please feel free to share this news article by clicking one of the social media icons below.
You may also leave a spam free comment or question here, or feel free to visit and chat with me on Twitter by clicking my avatar or the text links in this news article.
XO Rachelle Smith, Ph.D.