Hello health charity fans,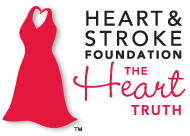 On March 8th, Toronto celebrated it's fifth anniversary of the Wonder Fashion Show for charity to support The Heart Truth.
The show featured several famous celebrities wearing top designer clothing, with the participation of many people who support the wonderful cause of raising awareness about heart health at such as this event.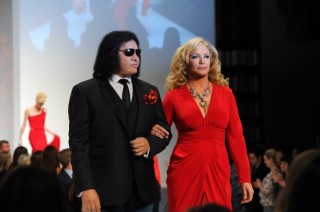 I had hoped to attend this year, however I was unable to do so. In any event I would like to share my thoughts on this fine Canadian charity event with you.

The talented and bright stars that attended this event are: Reality TV star Shannon Tweed with her husband Gene Simmons; singers Jully Black and Divine Brown, media personalities Jessi Cruickshank, Liza Fromer, Natasha Gargiulo, Isabelle Maréchal and Angie Seth; actors Ali Liebert, Lisa Ray, Gabrielle Rose, Lauren Lee Smith, Jessica Steen, Pascale Hutton and Tamara Taylor, soap star Susan Haskell; and Olympic champion Catriona Le May Doan.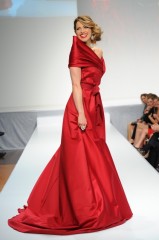 Amanda Tapping of Sanctuary had planned to attend the gala event; apparently work on an exciting news series "Primeval New World" in Vancouver (which began production this week) seems to have precluded her attendance when Ms Tapping announced earlier this week on Twitter that the talented Pascale Hutton would appear in her stead.
Ms. Hutton's presence was clearly in evidence during her appearance in a lovely "Paul Handy" evening gown pictured right.
The Heart Truth "Wonder Fashion Show" was a hit as it has been in the past years. We include below a backgrounder for this fine cause, and the entire video of the gala event courtesy of The Heart Truth.
Enjoy!

About The Heart Truth: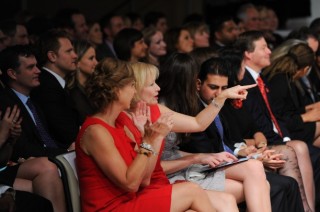 The Heart Truth Canada is part of a campaign that is organized in both the United States and Canada meant to raise money and awareness of the risk of heart disease in women. The campaign is sponsored in the United States by the National Heart, Lung, and Blood Institute, an organization of the United States Department of Health and Human Services.
Another campaign like the one in the States, is promoted in Canada by the Heart and Stroke Foundation of Canada. It focuses on educating women aged forty to sixty, mainly because that is the time when the risk of heart disease begins to increase, and more women have a higher chance of the disease.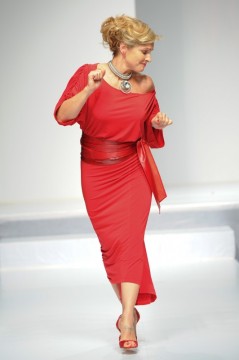 This year, The Heart Truth marks its first ten years of support to raising awareness of women's heart health. The Heart Truth raises awareness that heart disease and stroke are the leading cause of death for Canadian women, but most women do not know it.
In fact, most women in Canada believe heart disease is for the men, but women are more likely to die of a heart attack or stroke than the men. The Heart Truth fact is that one in three women die of heart disease or stroke. The good news is women can reduce their risk by as much as 80% by making lifestyle changes and taking action to improve their hearth.
The Red Dress is the symbol of The Heart Truth campaign. It not only represents the dresses they wear at the events, but the courage they take, love and devotion they put into these events, thus raising both money and awareness.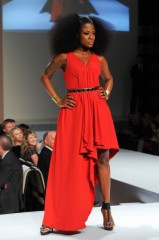 The Heart Truth campaign educates women of ways to reduce their risk of heart disease and stroke, and gives them the tools they need to protect themselves. Without such awareness, many women will not think of heart disease, thus this foundation is a very important way to make women more aware of the risks they can face without knowing they are actually at risk.
The Heart Truth campaign gratefully acknowledges the support of founding sponsor, Becel, and contributing sponsors Post Shredded Wheat, Rogers Consumer Publishing, and Heath Check without whom the program would not be possible.
As said on the The Heart and Truth website: "The Heart Truth is heart disease and stroke is the number one killer of women in Canada, but most do not know it."
That is true, but there are ways to prevent or reduce risk of a stroke or heart attack:
1. No greasy food
2. No smoking
3. Get enough sleep and rest.
4. Try to keep your stress level as low as possible.
5. Check your blood pressure either at home, or with your doctor.
6. Drink at least 8 glasses of water and some fruit drinks to maintain optimum health.
7. Eat healthy, and follow a diet plan.
A stroke is also known as a CVA (Cerebrovascular Accident). There are two types. Ischemic and Hemorrhagic.
-Ischemic is Due to Atherosclerosis
-Hemorrhagic is A Burst Blood vessel in the head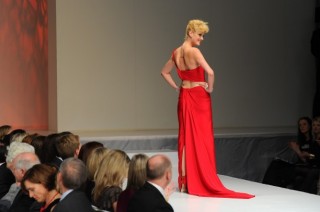 A stroke is caused by a block of blood flow to the brain because of a clot, or by hemorrhage, which is bleeding in the brain.. the part of the brain affected determines the severity of the after effects of the stroke.. some people have trouble with speech, weakness on one side of the body, etc.
Having high blood pressure, being overweight, smoking, and drinking all can increase your chance of stroke. If you think someone is having a stroke, use the F.A.S.T approach, which is watching for Facial weakness, Arm weakness, Speech difficulty and Time.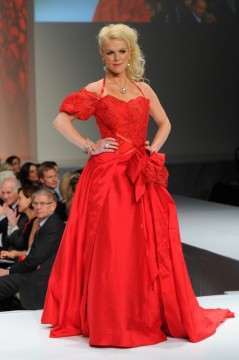 With the much needed and welcomed support of celebrities and the fashion community, this fashion show has been very popular in America and Canada, and has aided in gathering support from not only top list celebrities, but from the public as well.
Fans of these celebrities see their favorite stars and role-models supporting a wonderful cause, and like most supportive fans, they join in to help them support such causes. This fashion show is a wonderful way to build awareness and raise money. But most importantly, it encourages women to stand up against something as serious as a heart attack or stroke. While there is still no cure for either of these diseases, more women are becoming aware of heart disease, thus allowing them to take action to reduce their risk.
Taking action involves seeing their doctor and eating healthier. Heart disease or stroke not only affects the individual, but their family and friends, and with more support and awareness, more women can reduce their risk of either disease, and live a longer, happier life which is what The Heart Truth is all about!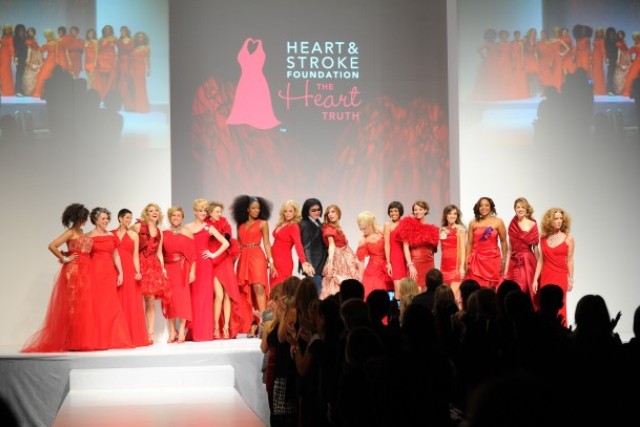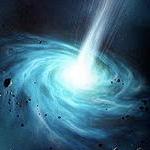 Thanks to Kenn for staging the images in my news article and thanks to you for reading and visiting here at WormholeRiders News Agency.
I would appreciate if you could leave a comment here, or if you prefer, click the social media icons below to share this news article. Thank you.
Also, please visit me on Twitter, WHR on Twitter, WHR on Facebook or visit me on Twitter by clicking the text links or images avatars in this news story. I and the WHR team look forward to will Seeing You on The Other Side"!
Thank you.

Regards,
GateworldRocky (Mike)