Hello Stargate fans!
Welcome to Chevron 7.6 produced by Showmasters Massive Events division here at the Hilton Metropole, in Birmingham, England.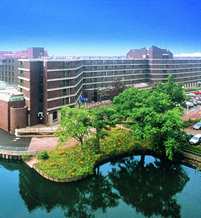 With many fans arriving early on in the day, the atmosphere for the weekend was quickly set with many joyous reunions and many new bonds being formed between fans.
Registration was quick and easy, as always, and there was much purchasing of extra photos and autographs to be done. The badge hunt has also commenced, with us being unashamedly excited about having collected 4 out of 7 already. This is the epitome of geekiness.
After that we hit the Dealer's Room to look at all the pretty, shiny pictures and indulge a little and cry a little over epic things we can't afford. Fandom, why are you so expensive?! We want the shiny. Our trip successfully completed, we decided it was time to try to navigate the Hilton – because we assure you, a map is definitely needed! For those navigationally challenged people like us anyway!
After mooching about for a bit and catching up with people, it was off to the Opening Ceremony we went, all excited and internally (and sometimes externally too!) squeeing. We were let into the hall group by group and we quickly found our seating amongst several hundred other excited fans. Taking photos of the Chevron 7.6 promotional banner proved very popular, but it has Richard Dean Anderson on it, so that's to be expected!

As the lights dimmed, the excitement in the room rose to a new level and everyone had their cameras poised and ready….only for Jason and Mark of Showmasters Events to take the stage. Ever the comedians, they had the audience giggling away as they explained how the weekend would work.
But then it was time for the real reason why we had all traveled from all four corners of the globe! First announced was Dan Shea who took the stage rapturous applause and proceeded to tell us a story about mobile phone messages and expensive phone bills. He seemed to enjoy being centre stage and had to be persuaded to stop talking. We were definitely looked forward to the hilarity there will ho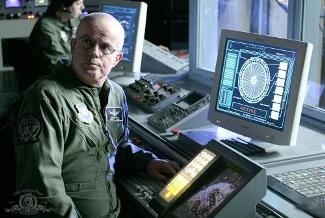 pefully be at his talks!

Next was Gary Jones, introduced as a "shy and retiring man" yet immediately contradicting that by running down the aisle to the stage. Following on from the previous phone anecdotes, Gary told us all about blocking Dan Shea's phone calls before quietly taking his seat. His panel also looks to be good fun!
Fulvio Cecere was announced next, and Chevron 7.6 is apparently his first ever convention! He seemed very happy to be here and in his quick speech, declared that he loved England. The right thing to say, considering where we are!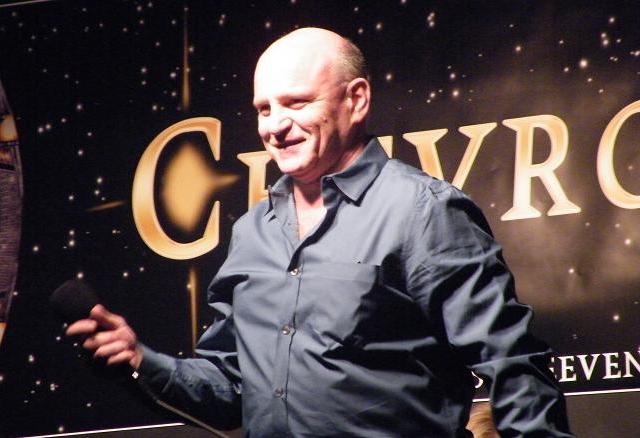 Next up and to much whooping and hollering, was Teryl Rothery, a woman after our own hearts for being so epic. Taking the stage and seeing all the cameras flashing, she struck a pose, providing an impromptu photo opportunity. It seems Teryl's main objectives for the weekend are to party and have fun. It's all about priorities!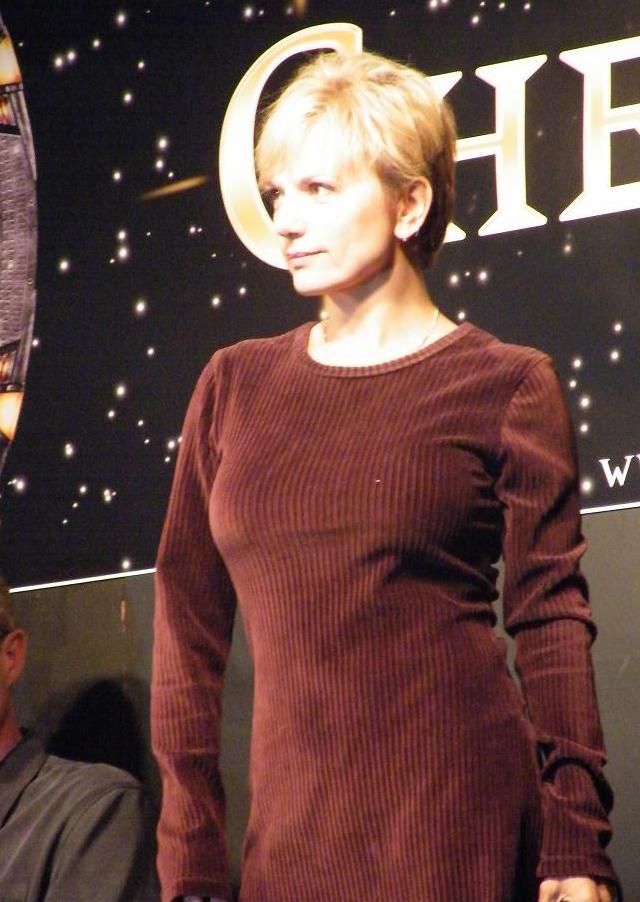 And last but most definitely not least was the man of Stargate himself…Richard Dean Anderson! He took to the stage, looking very well and

proceeded to entertain us with random tidbits and his English pronunciation of "Birmingham".
He also informed us of his charity, Sea Shepherd, who we will be seeing and hearing more of over the course of the weekend. He thanked us all for coming and asked that we all just have fun. well of course we will and are!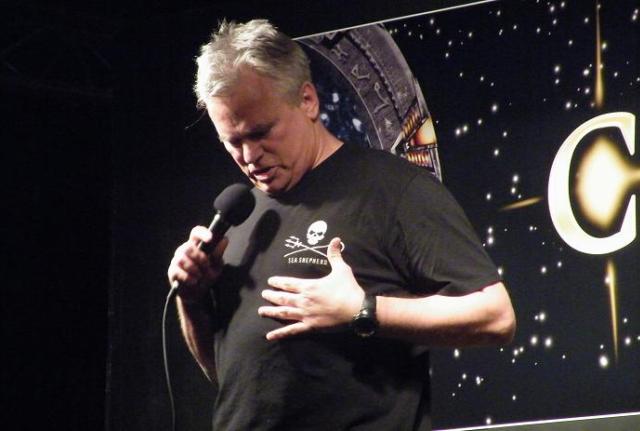 Following that was a quick question of when the actors were last in the United Kingdom, which provoked a very funny story of Dan Shea stalking Gary Jones on flights across the Atlantic and Gary's attempts to swap seats on the plane to escape him! Rick rather wittily told us he was last here "yesterday" and later admitted that he actually couldn't remember but thinks he comes over once every 6 years whether he has a reason or not. Teryl, of course, was last in the UK when pregnant with her daughter so roughly 3 years.
Quick thank yous were passed back and forth before the actors left the stage, waving their ways down the aisle, and we were left to ready ourselves for the first party of the weekend with the theme of 'Ra'.
The party was fun, as usual, with plenty of con dancing and plenty of costumes ranging from typical military gear, Jaffa and Egyptians, right the way through to a "homeless Goauld symbiote" who clearly won the best costume of the night. The Buckin' Bronco proved to be a popular attraction, to the point that Dan Shea and Gary Jones (in a very fashionable hat!) turned up to watch and mingle a little with the party-goers.
All in all, today has been a great start and we are eagerly awaiting the start of tomorrow's activities. Bring on the rest of Chevron 7.6!!
Tune in again soon for more about the Chevron 7.6 convention this weekend, and keep an eye out for the WormholeRiders News Agency detailed reports we will be bringing you in the future too!
Thank you, as always, for reading! Feel free to leave a comment or question on here and I'll get back to you as soon as possible.
Alternatively, you can follow me on Twitter and leave a comment on twitter by clicking the image.