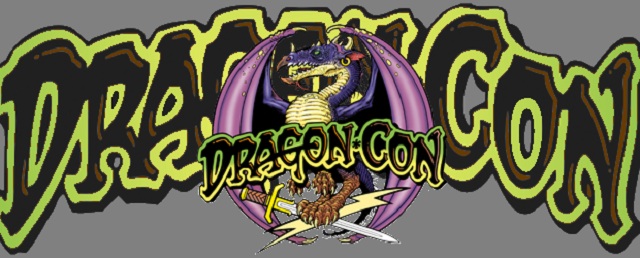 Hi DragonCon fans!
For me DragonCon is when all fellow nerds, geeks, and science fiction lovers get together and celebrate their favorite character or show. Every year there is something different. The streets are always super crowded with everyone dressed up, DragonCon 2012 was truly my Magic Carpet Ride in Atlanta!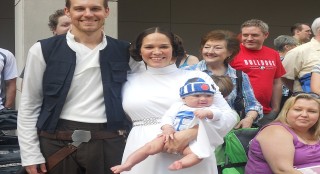 I have seen my fair share from everything to a pirate to a storm trooper from Star Wars!  I get so excited to see different costumes and to see how many fans love the same shows that I love.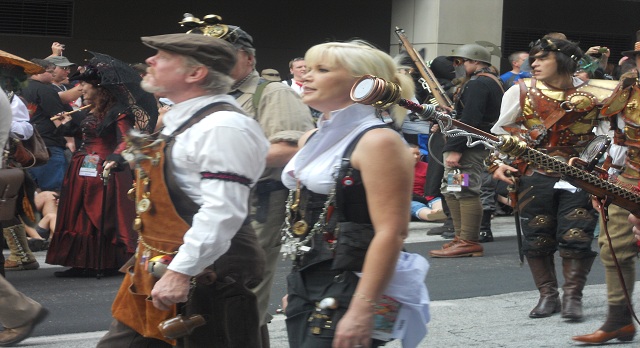 This year at DragonCon was huge because it was the first convention that Richard Dean Anderson had attended in North America this year.  The city of Atlanta actually chose September 1st as Richard Dean Anderson Day!  What an honor!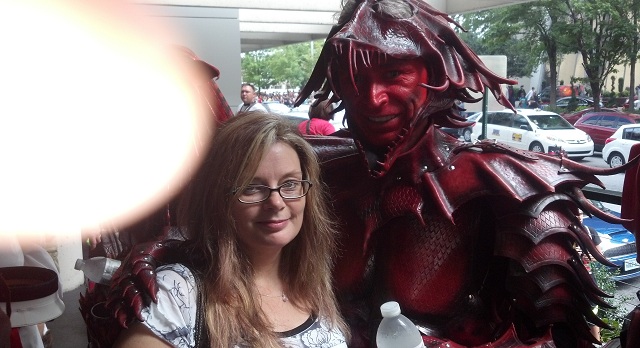 Friday is actually the second day of Dragon Con and I thought I would get a few panels that I had been so eager to see out of the way.  I arrived very early and surprisingly there was no line for the ticket area. Usually the line wraps around the block and there is at least a 2 hour wait. Phew!  I was lucky on that day.  Friday was the day I would get to interview Peter Kelamis, Josh Gates and Garry Chalk.  I could not have been more excited and nervous!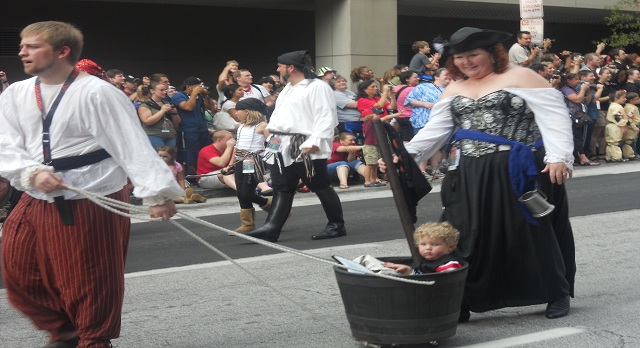 There was such a line at the Walk of Fame as fans eagerly awaited the opening of the Grand Ballroom.  I actually sat beside a Klingon for an hour.  Imagine that!  I got to hear all about his love for Star Trek and learned why there are still millions of fans that show up every year for a show that has been long gone on television but still very much alive in their hearts.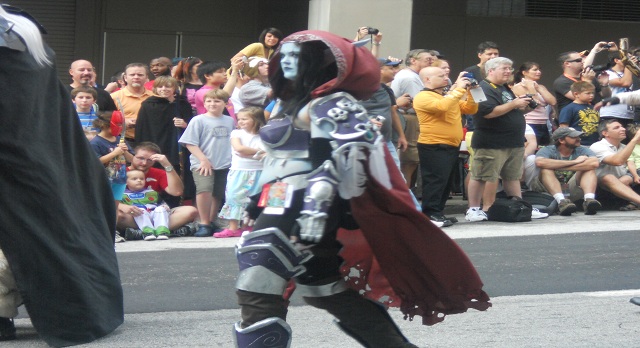 After an hour waiting I heard my name being called and knew that it was my turn to shine.  Literally I was fixing to meet Peter Kelamis, Josh Gates and Garry Chalk!  When I walked into the Walk of Fame I was overwhelmed! 
All of the characters I loved from Sci Fi were all in that room.  First person I noticed was Joe Manganiello who plays Alcide Herveaux on True Blood.  He is such a gorgeous man and extremely tall. Of course most people are tall compared to me.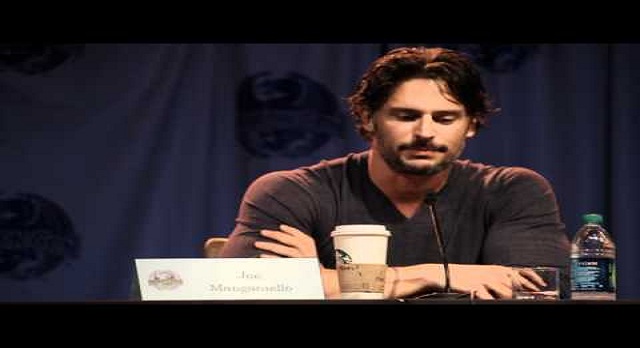 Making my way around the room I was able to say hello to Felicia Day, Adam West, Nichelle Nichols and the very talented Tony Amendola from Once Upon a Time.  I actually saw Lou Ferrigno.  For those of you too young to remember, Lou Ferrigno played the altered state Dr. David Banner on the television show The Incredible Hulk.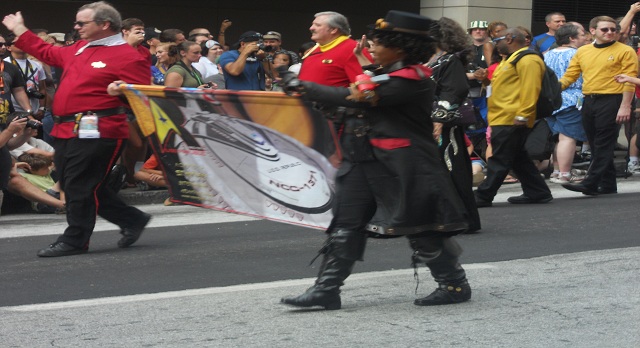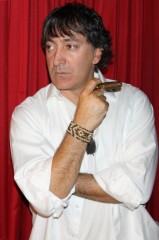 I made my way around the room until I spotted Peter Kelamis and Garry Chalk.  Their tables were set up beside one another.  My first interview started with Peter Kelamis.  I have to say Peter is a very good looking guy.  Not only is he a handsome fellow, Peter is charming and also very funny. 
For those of us that love Stargate, we best remember Peter as the wonderful character Adam Brody on Stargate Universe.  Peter told me of a stand up video that he had made that people can order from The Stand Up Comedians Dot Com, so click this link or Peter's picture to the left to head on over and get yourself some Peter Kelamis comedy today!
You can listen to our entire interview by clicking just above Peter's picture and see a sample of how funny he is below his pictures as well as the entire panel too (below)!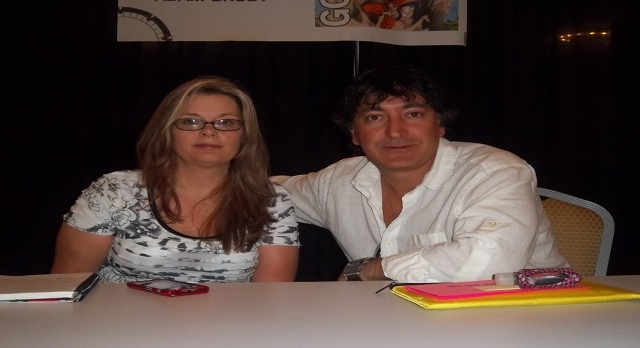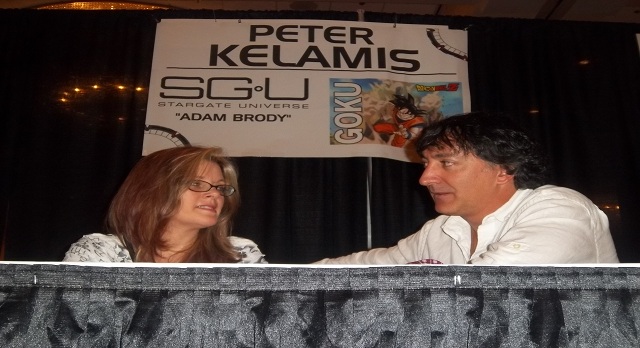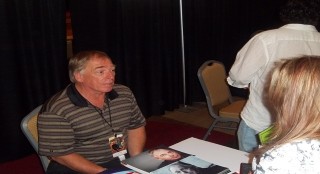 Next I made my way over to Garry Chalk.  Garry is a very talented actor who has played on many television shows and movies.  Garry was in one of my favorite television shows called The Killing that is on AMC where he played Lt. Michael Oakes. 
He has also recently completed the movie A Christmas Story 2.  A sequel to the original A Christmas Story.  Garry said that if we thought the first movie was funny wait until we saw the next one.  I cannot wait for it to come out!
Garry Chalk said he also enjoys being the voice of Sky Marshall Wade on hit animated series Voltron Force.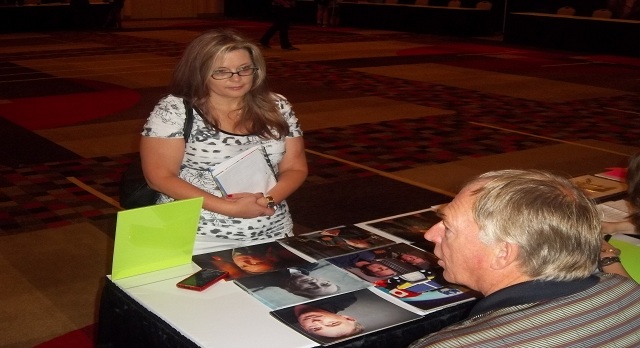 During my interview with Garry he asked me to hold on a second and called to John.  I was not sure who he was referring to until I looked to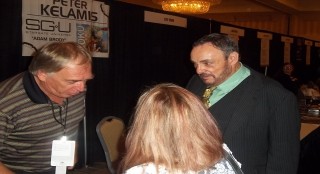 my right and up walked John Rhys Davies.  He introduced us to one another and there were no words for the excitement I was having to contain. 
For those of you who do not know John Rhys Davies, he is better known for his portrayal of Gimili on The Lord of The Rings Trilogy.  I noticed over to my right there was a table full of hobbits!  Ian Holm who played Bilbo Baggins and Elijah Wood who played Frodo Baggins.  The cast of The Hobbit were there promoting their movie which comes out December 14, 2012.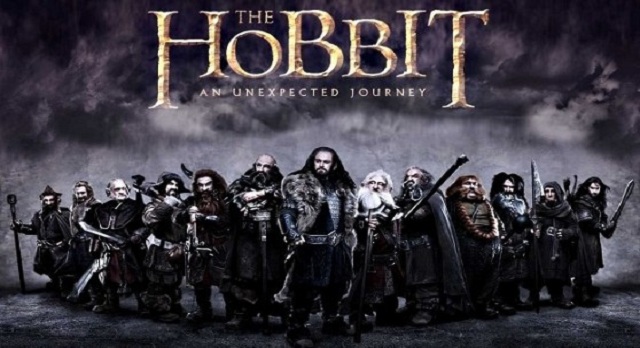 My last adventure for Friday was my 2 o'clock Eureka panel.  I love Colin Ferguson! I cannot say it enough about this fantastic actor.  He has the best sense of humor.  Every time asked a question, Colin would make a joke out of it while answering it at the same time.  The panel was made up of Colin Ferguson, Niall Matter, Debrah Farentino, Tembi Locke and writer Jaime Paglia. 
The humor between the cast was the best out of the whole weekend for me.  I learned much about the cast. They talked about pranks they played on one another during filming.  Also, they got together after work and would hang out over drinks.  All of them said it was a complete shock that Eureka was not picked up for a sixth season.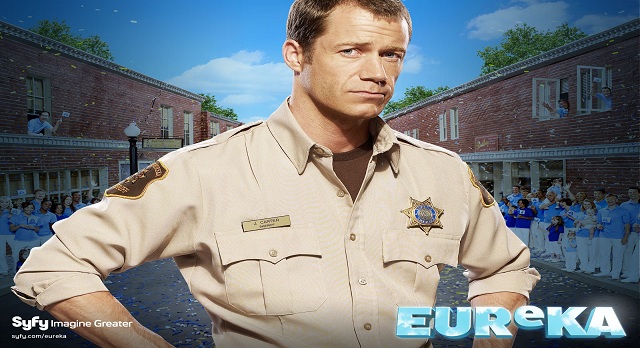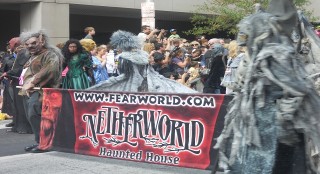 Saturday started off with the parade.  Everyone loves the Dragon Con parade!  So many things and people to see.  I saw a group of people carrying a banner that said God hates fangs and wearing shirts that said Merlots on them.  Awesome to see True Blood there.  Storm troopers, pirates,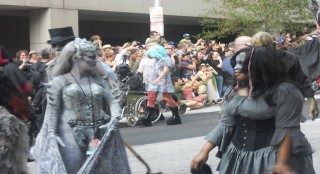 vampires, Hogwarts, and even the Avengers were there.  I saw everything. 
My favorite thing was Netherworld group.  Every year around Halloween, Atlanta's largest haunted house works its hardest to scare the pants off of those that dare to enter.  I for one go every single year. I must admit, I am addicted to being scared. 
When they enter the parade it is always great to see who they bring with them.  My daughter manages to get her picture taken with some of the cast.  USA Today has named Netherworld America's #1 Haunted House.  I believe it!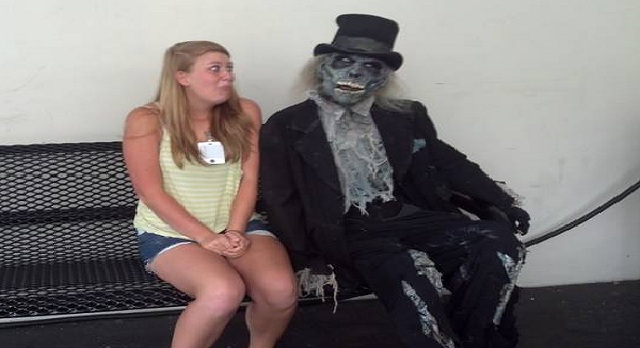 My daughters and I headed to the Hyatt where we stood in a line that literally wrapped itself around the  block.  However, I wanted to see the cast from The Vampire Diaries so I was willing to wait in the heat. 
So many of us ladies could not wait to see Ian Somerhalder.  My youngest twin Jacquelyn is a huge Damon fan as to where my oldest twin Katie is a Stefan fan.  We were able to get close to the front of the panel which included Ian Somerhalder, Paul Wesley, Sebastian Roche, Joseph Morgan and Nathaniel Buzolic.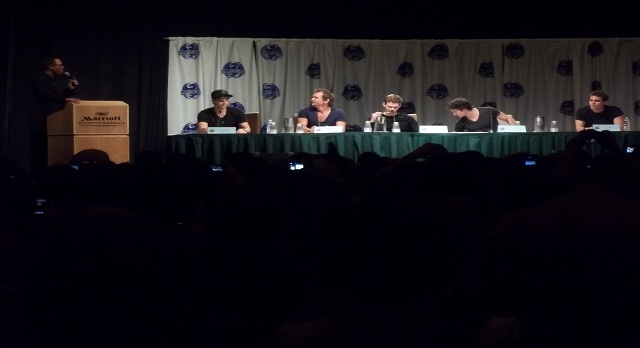 This panel made you drool!  They started off by telling the audience that their conversations headed south really fast.  They did not let us down.  Constantly joking with one another.  Deciding on who got to make out more with Nina Dobrev.  Paul Wesley insisted he spent the whole season crying. 
It is true, I think he did spend last season crying all the time.  Just a couple of spoilers were released. One being there was a new vampire hunter in town!  And a good looking one at that! Also, this year there is no love triangle.  I cannot wait to see who ends up with Elena.  Since I am a Delena fan, I am hoping it is Damon.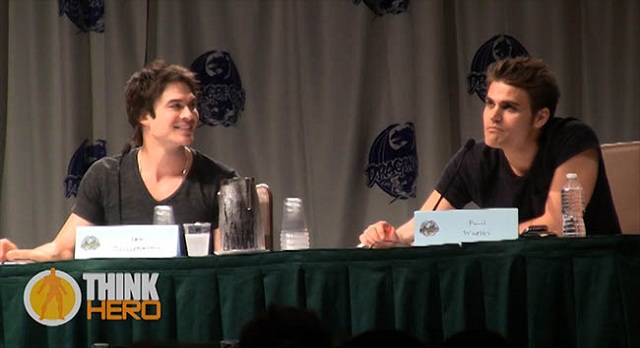 Sebastian Roche proved to be quiet the entertainer.  He is so funny.  Sebastian made a joke out of most things.  Like they promised, his conversation always headed south.  The crowd at the panel I noticed ranged from anywhere between 6 and 60 years old.  Old or young, they all love The Vampire Diaries. 
My daughters got to meet the cast and Jacquelyn actually had her picture made with Joseph Morgan who plays Klaus.  Joseph Morgan seemed very shy.  In a cute sort of way.  Of course even when he is being big bad Klaus I find him cute. I do not think many women will disagree.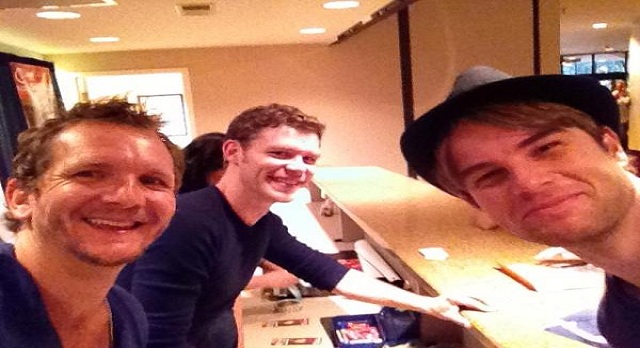 The last event of the evening for me was the Gate Summit Three panel with the cast from Stargate.  Yes! Finally I get to see Peter Kelamis and Joe Flanigan together on stage. This panel was nothing close to the last one I had sat in. They seemed kind of conservative.  Gate Summit Three panel consisted of four handsome fellows; Joe Flanigan, Peter Kelamis, Jason Mamoa, Cliff Simon and the beautiful Torri Higginson and the gorgeous Jewel Staite. 
I loved the chemistry between Jewel Staite and Jason Momoa.  These two seemed to be really good friends.  Of course the audience got to hear about the practical jokes they played on one another.  Joe Flanigan said that he just filming a movie with Jean Claude Van Damme. Peter Kelamis just finished a stand up show in Vegas. 
As you may be aware, Jewel Staite is on the the new show The L.A. Complex.  Jason Mamoa talked about working on the remake of Conan The Barbarian and also his role as Khal Drogo on Game of Thrones.  It was awesome to learn that the members of the MGM Studios Stargate franchise were actually moving on to new roles.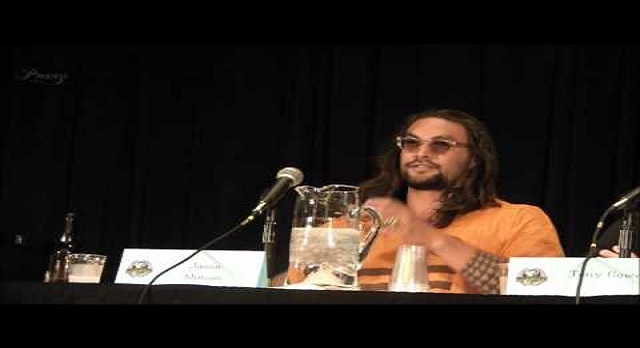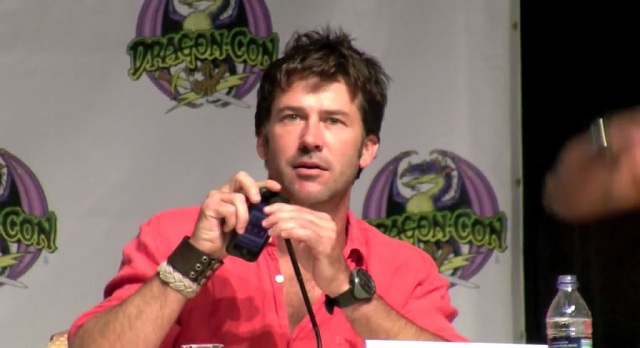 This year DragonCon 2012 was amazing to say the least. A huge improvement is that they were actually asking crowds what could they do to improve DragonCon for future fans.  Also, this fan run organization will be adding some new categories to DragonCon for the upcoming year.  As always, I will be there and look forward to sharing it with you. In the meantime, enjoy the complete parade below!
Many thanks to Kenn for extensive video embedding and research. As always we appreciate your visiting our news sites at WormholeRiders News Agency. Thank you.
If you prefer, click the social media icons below to share this news article or as many of our readers and visitors often do, visit the WHR on Facebook or me on Twitter by clicking the text links or image avatars in this news story. I will look forward to Seeing You on The Other Side" to tweet about one of my favorite series The Vampire Diaries starting soon!

xoxo
Dragonbayne (Angela)