Welcome back WormholeRiders Who Were Going Ghost Wars Ghastly (a good thing) at San Diego Comic-Con!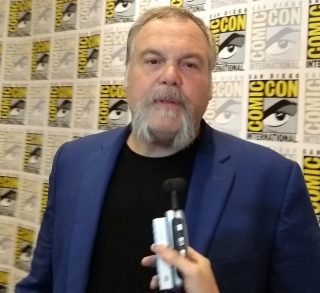 Subsequent to attending the fantastic Ghost Wars SDCC panel in 2017, #TeamWHR was granted the privilege of interviewing vivacious and vicarious Vincent D'Onofrio in the Press Room. The Ghost Wars panel was outstanding at SDCC 2017 with both actors and series creators in attendance when they shared details about a great new paranormal series now making it's premiere on SYFY!
The opportunity to interview the legendary actor Vincent D'Onofrio of Ghost Wars was of special interest to this editor. Having followed his career for thirty years since I was first introduced to his talented portrayal in Full Metal Jacket, when he brought the character of Leonard 'Gomer Pyle' Lawrence to the big screen in 1987!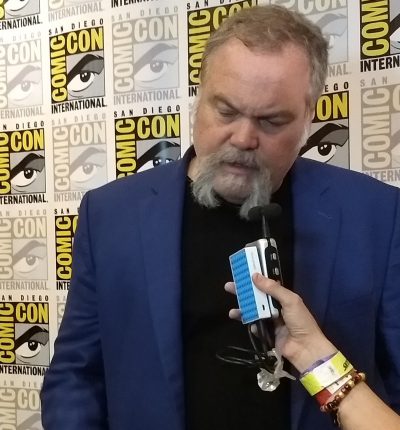 Now Vincent D'Onofrio is bringing the cryptic character of Father Dan Carpenter to life in the Ghost Wars. The series is superb with focus on the mysterious Lambda Corporation laboratories in the small town of Port Moore, Alaska.
A spiritual leader of the community whom many trust and admire, Father Carpenter has discovered that an off world asteroid has crashed into the town which has apparently opened a portal to the nether world of ghosts that have been appearing seemingly at random in remote town of Port Moore.
In an episode aptly named "Post Apocalypse Now" reveals that Lambda may be seeking an alien influence or power source that is related to the appearance of the ghosts that are first only seen by Roman Mercer portrayed by Avan Jogia.
In "Post Apocalypse Now", more frightening sequences are witnessed when Father Carpenter is nearly consumed by what appears to be an alien creature in a home with a dead citizen, now haunt by it's apparent ghost.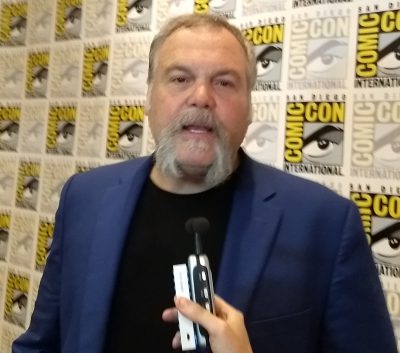 The question for viewers to consider is are these real ghosts of dead human beings, or could alien entities be inhabiting the bodies of deceased persons in Port Moore?
Since that time three decades ago, brilliant character actor Vincent D'Onofrio has appeared in over one hundred movies and television programs!
These include several of my personal favorites such as Jurassic World (2015) as the diabolic Hoskins, Emerald City (2017) as The Wizard, Daredevil (2015-2018) as Wilson Fisk, The Magnificent Seven (2016) as Jack Horne, Men In Black (1997) as Edgar, and as many more fabulous and enthralling characters over the past thirty years!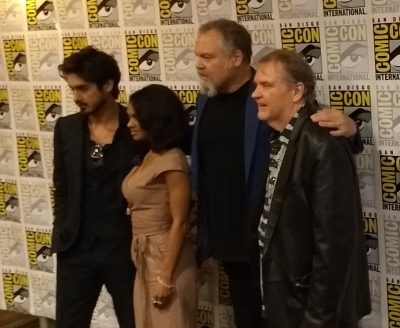 In addition to showcasing Vincent D'Onofrio at the Ghost Wars San Diego Comic-Con panel, Vincent was joined in the SYFY Press Room by  Simon Davis Barry, acting heartthrob Avan Jogia, Kandyse McClure and Meat Loaf,
Each of these fine actors revealed a some exciting series secrets to the reporters whom were gathered.
We were all eager to learn what was coming in the first, and hopefully many future seasons of Ghost Wars which are included in the interview above that we hope you enjoyed!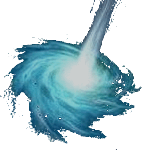 Please feel free to share this article with your friends, co-workers and or family and to leave your comments! We look forward to you visiting our Conventions Corner and Main Blog web sites when we release #TeamWHR's next exclusive Ghost Wars interviews from SDCC featuring Simon Davis Barry. See you soon in the near future!
Or as many of our readers and visitors often do, visit WHR on Twitter, WHR on Facebook or visit me on Twitter by clicking the text links or images avatars in this news story. I and the WHR team look forward to Seeing You on The Other Side!"
Thank you.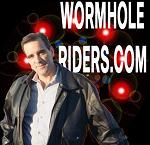 Best Regards,
Kenn of #TeamWHR