Welcome back! It's Super Saturday!!!! Back again for Day 3 of New York Comic Con, we hit the ground running!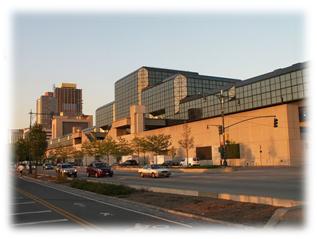 DATELINE: Saturday, October 12, 2013
We ran into a couple of our friends on the NY Waterways ferry across the Hudson again, it seems that this particular weekend in October is THE weekend to head to the Javits Center, some sort of convention going on or something…
Just kidding!!!
I am pulling your leg of course!
I know it is NYCC, and it would not be this much more fun if we were not running into people we knew on the ferry!!!!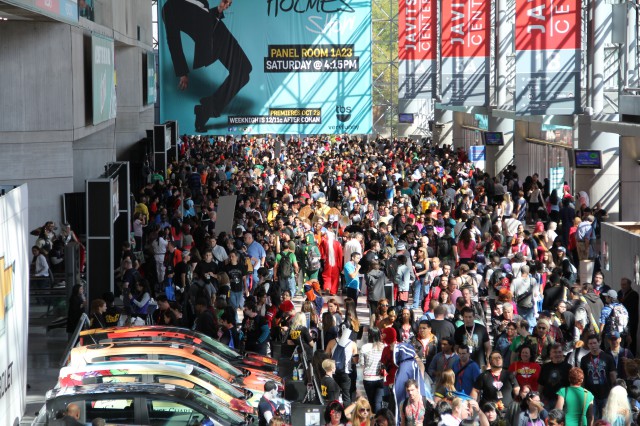 We thought that we would give ourselves another try at the great hall, but that proved more of a futile attempt at seeing how long we could maintain composure in a crowd or a bout of claustrophobia, whichever came first…luckily for us, we found the eFX Collectibles & UD Replicas booth.
Here my husband came across a convention exclusive that anyone in their right mind would NOT turn down. It started as a replica Agents of S.H.I.E.L.D. badge with Agent Coulson's ID, but the exclusivity of this item was that included in the cost was YOUR own ID – right there on the spot, your photo was taken and applied to the ID, and you became an agent of S.H.I.E.L.D., LITERALLY!! Your name and its assigned ID number were entered into the lore, annals, and logs of S.H.I.E.L.D. agents FOREVER!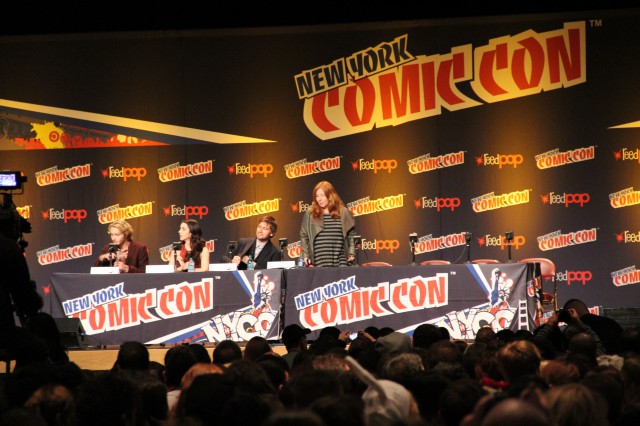 And though it felt as if we had just gotten to NYCC, we decided to wander down to the bowels of the convention center, to the Main Stage to see if it was necessary to start to get in line for the EVENING'S panels. Good thing we did!
It was now around 1pm, and the current panel was "Superman 75th Celebration" and it was about half way through. The monitors were up and booming, live streaming the panel. As Superman ended, it was time for the Teen Wolf panel.
We moved up in line, going up and around the barriers in our orderly fashion…we did not get in. Now, at around 2:30pm the line was moving again…our "line mates" and us were within the last few to get in for the Reign panel that started at 2:45pm – did you count the hours?
That was close to an hour and a half wait to get into Reign…and our ultimate goal was to get into the 5pm panel for Marvel's Agents of S.H.I.E.L.D and the 6:30pm The Walking Dead panel… Nothing like compared to stories I've heard about the wait for some panels at Comic Con International in San Diego, I am certainly NOT complaining – we made it into the auditorium and we were happy that we did not have to vacate between panels!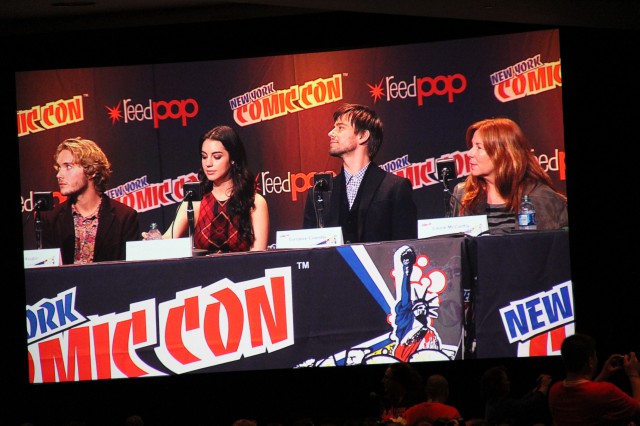 We were pleasantly surprised by the Reign panel. I had originally wanted to try to catch it, the show looked interesting, and those suspicions were positively confirmed! This show is presented on The CW, so there is obviously going to be a flair for the dramatic in its historical representation, but it seems like it will be tastefully done.
This panel included its three main stars: Adelaide Kane, Toby Regbo, and Torrance Coombs, and also its executive producer, Laurie McCarthy.
The description, take directly (again) from my NYCC Mobile App, reads as follows: "Sex. Lies. Betrayal. Prepare to travel back in time 500 years and watch as the unknown an never-before-told story of Mary Queen of Scots unravels.
Joined by her three best friends as ladies-in-waiting, we find a teenage Mary arriving in France, betrothed to Prince Francis, with a promising future ahead. Unbeknownst to her, she will soon be fighting for survival amid fierce foes, dark forces, and dangerous sexual intrigue." Here is a preview:
The panelists seemed very comfortable and at ease with each other on the stage, and they assured us that what we saw here had indeed translated to on the set as well, they had become a very close knit group. They had just finished filming episode 8, and they were able to take a mini break to attend NYCC before going back to the grind and finishing the remaining 5 episodes of this first season.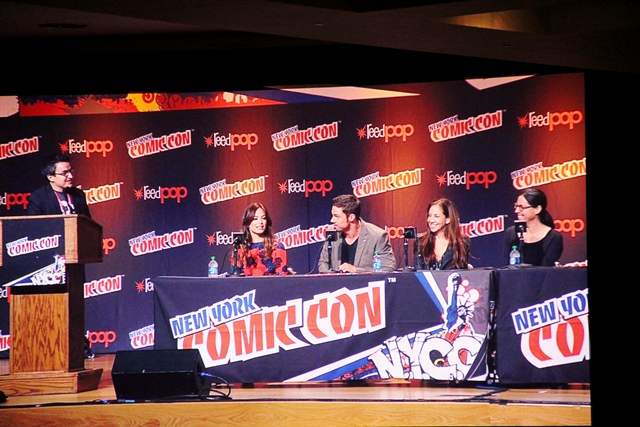 The Reign panel flowed right another of CW's offerings, Beauty and the Beast. Having had its second season premiere on Monday, October 7, we were treated to a sneak peek of what is in store for this new and exciting season. The panel was hosted by TVLines.com's Matt Mitovich and it included its main stars Kristin Kreuk and Jay Ryan, with writers/producers Sherri Cooper-Landsman and Jennifer Levin, and new show runner Brad Kern.
A different offering than the original Beauty and the Beast that I grew up, the good ole Linda Hamilton/Ron Perlman version, it would take some getting used to for me watch this with any regularity.
Built for today's youth and on a youthful network (The CW), this show is filled with eye-candy for all to enjoy, and the stories seem to be well thought out. The panelists did answer a question asking if we might see Linda Hamilton, but I think that, though the current incarnation of a classic, this show is its own show, not to draw likenesses from previous versions. Please enjoy the following as The CW presents Beauty and the Beast: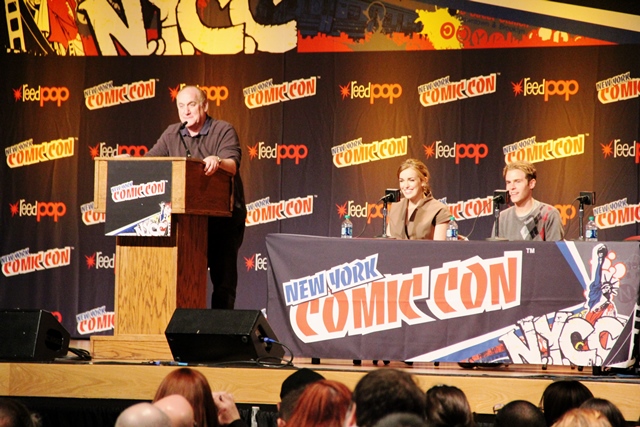 And now, we enter the evening's events that we've all been waiting for…well, the first of our final three panels for the day, Marvel's Agents of S.H.I.E.L.D.!!!
Now, the previous two panels were presented to the public, ergo streamed on the monitors in the waiting area outside, BUT Agents of S.H.I.E.L.D. was shrouded in secrecy – to the point of lowering the doors to the hall, and turning off the monitors when the preview was presented.
I can remember hearing the crowds still remaining outside when the doors were closed and the monitors blanked; then I thought about how fortunate we were to get in and what we were in store for. This panel was moderated by Marvel's Head of Television, Jeph Loeb, and included Fitz-Simmons, Iain De Caestecker and Elizabeth Henstridge, clearly crowd favorites. The preview was the following week's new episode, IN ITS ENTIRITY!! Hence the secrecy; I've never been party to such happenings, and I was surprised by the lengths taken to secure the secrecy. The following is a preview to the now-already-aired Eye Spy: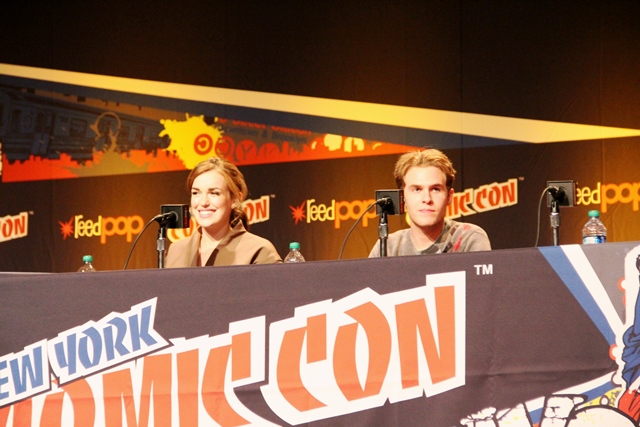 The playful banter seen on screen between Fitz and Simmons is not exclusive the show, it seemed as if Caestecker and Henstridge have built up the relationship off screen making it that much easier on screen – fun on and off set!
As the preview ended, Mr. Loeb informed the crowd that ABC had taken the unprecedented step to sign Marvel's Agents of S.H.I.E.L.D. to a second season, before even the half-way point of season one!
Well done Marvel!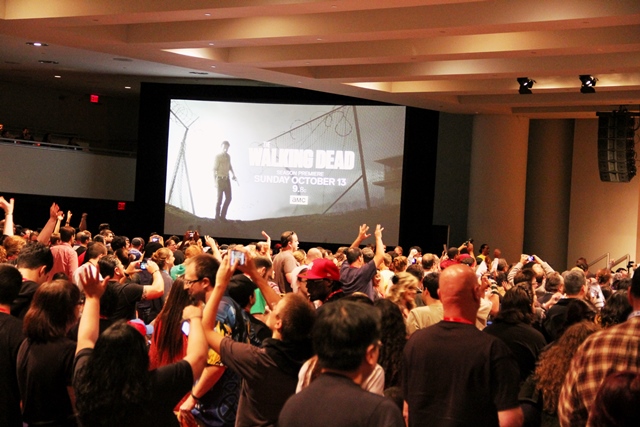 As Marvel's Agents of S.H.I.E.L.D. finished, it was time for The Walking Dead panel, the middle of the trio of panels that were on our must see list. This was obviously the principal panel that drew the greatest number of fans, both "on the inside" and watching on the monitors out in the waiting hall.
And the panel did NOT disappoint! First of all, it was moderated by a self-professed Walking Dead superfan, none other than the incomparable Yvette Nicole Brown and included practically the entire cast (in no particular order): Andrew Lincoln, Danai Gurira, Steven Yuen, Lauren Cohan, Chad Coleman, and Norman Reedus. The cast was joined by executive producers Gale Anne Hurd and David Alpert, as well as show runner Scott Gimple, zombie-make-up executive producer Greg Nicotero, and Walking Dead creator Robert Kirkman.
One of the most interesting questions dealt with the time frame of when a cast member learns of their impending death and if they have any input into "how they go" if the time frame allows. We learned that though it is hard on all when it is their time, and no one is safe, it is integral to the grand story when it is their time.
And as for the second part of the question, we were told that when it was Merle's time, Michael Rooker was told about a week and half out, and he gave input as to what he would like to see happen. Up next you will see the season four preview that we saw: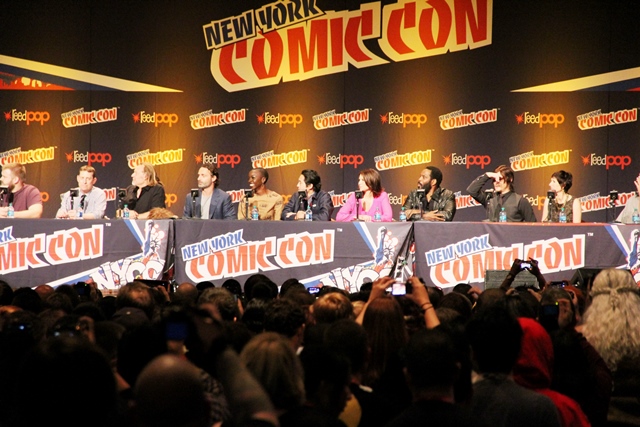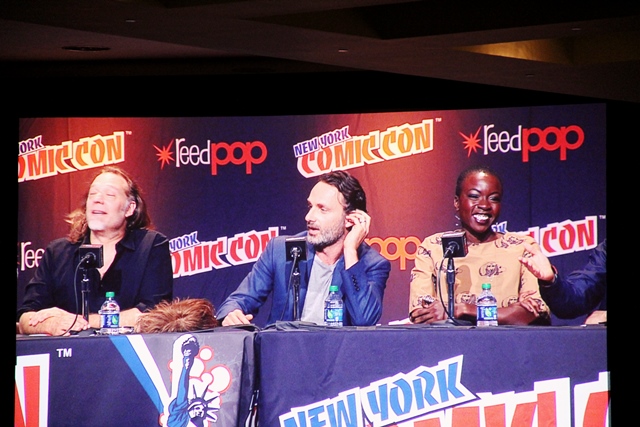 This group of individuals, this assembled cast and "crew" appeared to be one of the most "professional families" that I've ever seen.
There was a closeness from such a great and grand assembled cast that it is no wonder that the show is so successful – from the top down AND the bottom up, everyone is a cog in The Walking Dead wheel, no one greater than the other.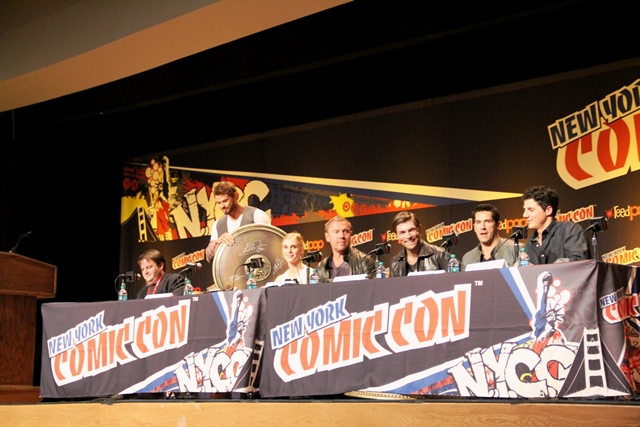 From The Walking Dead, we stayed put for the finale of our NYCC Day 3 – the Hercules: The Legend Begins panel (included below for your enjoyment).
Having no expectations for this panel, other than to be impressed, my goal was fulfilled! From the word go one could see the passion and harmony, camaraderie and drive toward the end goal of a great product that the assembled panel embodied.
Each seemed to feed off of director Renny Harlin's desire and appetite for his product, they fell hook, line, and sinker into line and their output is a film that is full of the zeal and zest that Mr. Harlin was selling.
Filming in Bulgaria, the cast loved it, many saying that anything goes, you can be so utterly creative because of your surroundings. Present at the panel were the film's stars Kellen Lutz, Liam McIntyre, Gaia Weiss, and Scott Adkins, joined by co-producer Jonathan Yunger and the aforementioned director Renny Harlin.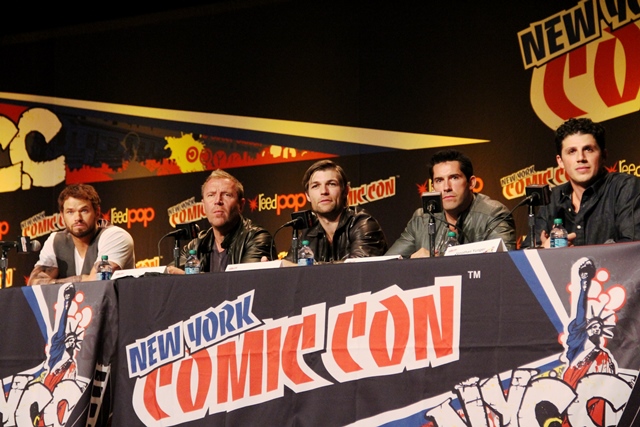 It was so much fun to listen to Mr. Harlin speak – he exudes passion, life, desire.

When asked why he wanted to make this movie, he responded simply that he "grew up loving the Greek myths – Ben Hur and Spartacus – and that directors have two dreams: to make a western or an historical epic, he is living his dream."
When the topic of 3D was brought up, Mr. Harlin talked about how "3D is about creating a world where you feel you are in it – not just poking swords and spears, that is just a gimmick".
We were treated to the following teaser trailer which we include below for your enjoyment: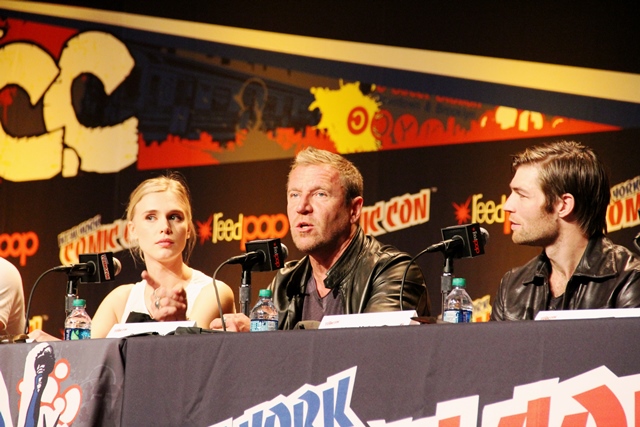 After the trailer, a casual Q&A session was opened up with crowd where, again, questions were very insightful, prompting the responses you'd expect from a close knit cast and their director.
Interrupted only by the cast and the director mentioning to the crowd that if they had a gold star on a particular part of their seat they are winners of an autographed (by the entire panel) prop from the movie.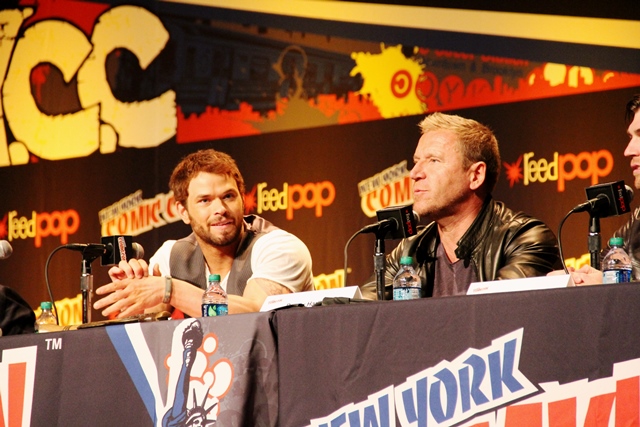 The prevailing sentiment, over and over again, was Mr. Harlin's passion for his product – and it was not the overwhelming hard sell of a product, it was a passion for what he does, what he has to present to an audience, with a fervor unmatched by any that I have seen!
There is no doubt in my mind why he is one of the most sought after directors – by all involved in any feature Mr. Harlin works on, from producers and writers, to the actors themselves.
And that's a wrap on our panel filled Saturday, Day 3 of this year's NYCC. And I would be remiss if I did not mention that the same friends that we ran into going TO the convention, we ran into on the ferry coming FROM the convention – seems they filled their Saturday too! Now tomorrow is another day, the final day, so stay tuned for our final report on Day 4 of NYCC!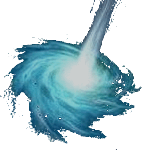 Thank you for taking the time to stop here at Convention Corners at WormholeRiders News Agency, and to Kenn for the final staging and editing of this installment! Keep reading and wanting for more, and you never know, you may just get more! (Trust me, there is more!)
Thanks to Kenn for final audio, video embedding , and additional image staging, and many thanks to you for reading and visiting WormholeRiders News Agency.
Please feel free to leave a comment here, click an icon below to share this news article, or you can chat by visiting and following me on Twitter, just click on my avatar to the right.
Thank you!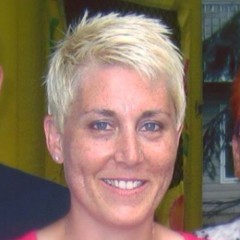 Karina (FidgetTBC)