Hello Comic-Con International fans!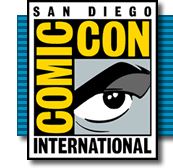 Though this was only my second visit to San Diego for Comic Con I tend to be surprised by the patience of fans when it comes to seeing their favorite actors as you will read for yourselves in this overview report about Comic-Con!
Apparently some hardcore fans had been camping out as long as four days before the panel day. The panel they were waiting for? Of course the fabulous Twilight Saga: Breaking Dawn Part 1 conducted in Hall H of the San Diego Convention Center by Summit Entertainment.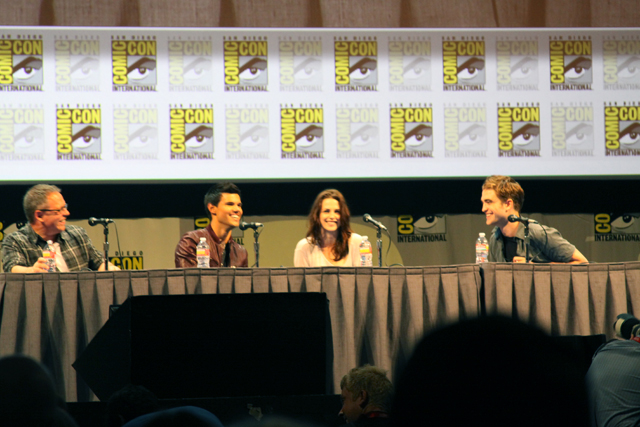 Photos courtesy of Lorraine Canilio-Melquadies
I am sure it had something to with that fact that Robert Pattinson (Edward Cullen), Kristen Stewart (Bella Swan), and Taylor Lautner (Jacob Black) were scheduled for the panel. The three actors were introduced and took control of the first half the panel. Yes, the fans' screaming was deafening. We were treated to a clip of Edward and Bella's honeymoon. Afterward the three talked about their favorite scene to shoot. Each agreed that the birthing scene was their favorite.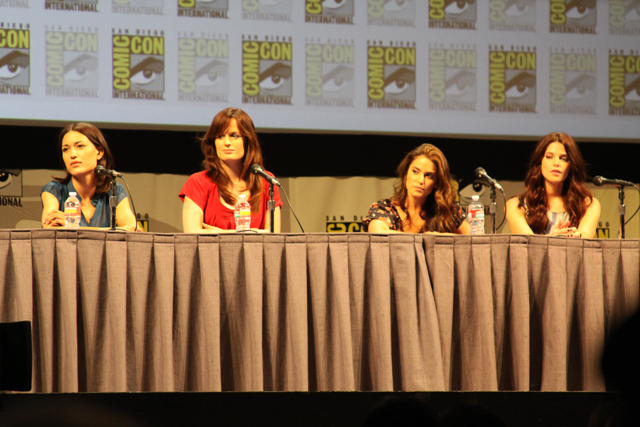 Photos courtesy of Lorraine Canilao-Melquadies
Shortly after the three were joined by their fellow cast mates: Ashley Greene (Alice Cullen), Nikki Reed (Rosalie Hale), Elizabeth Reaser (Esme Cullen), and Julia Jones (Leah Clearwater). Each talked about their parts in the movie. To end the panel in a big way Summit Entertainment held a special raffle drawing. Earlier tickets were distributed to everyone in the hall.
We were told that three people and a guest each would be given VIP passes to have a meet and greet with the cast that day. The announcement made the room stir in excitement and prayers hoping they were picked. I believe it was Ashley, Elizabeth and Julia that picked the winning tickets. Congrats to the winners!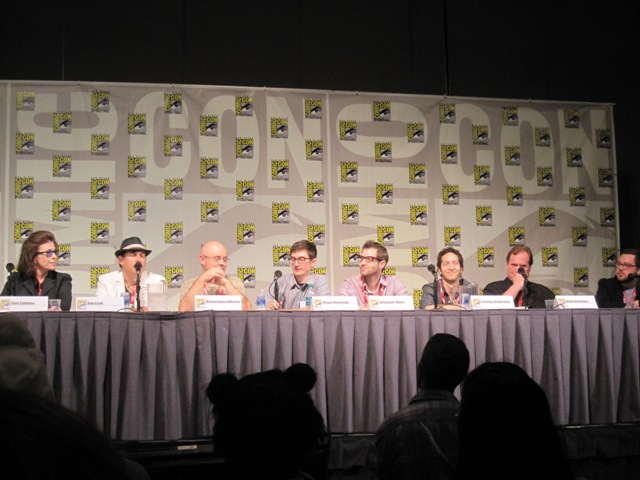 The next panel was The Character of Music with BMI and White Bear PR in room 6A. The panel featured Dan Licht (Dexter), Sara Colleton (Dexter),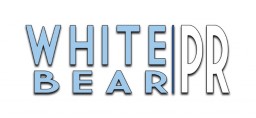 Jeremy Zuckerman (Avatar the Last Airbender), Benjamin Wynn (Avatar the Last Airbender), Bryan Konietzko (Avatar the Last Airbender), Michael Dante DiMartino (Avatar the Last Airbender), Noah Sorota (Falling Skies), and Mark Verheiden (Falling Skies).


The panel began with an introduction video on the different soundtracks each of the panelists had worked on. It was interesting to hear what influenced each composer to create new music. Some of the panelists mentioned that they do listen to music like Rock n' Roll to help them compose new pieces. Others were influenced the works of previous mentors or composers they had admired.
One composer said he was able to use instruments that were made out of actual human bones in one of his pieces. I thought that was pretty cool, but kind of creepy at the same time. I thought this was a good panel to attend because I think we take for granted how music does enhance the shows and movies we watch. Think of the movie Jaws. When the shark is about to appear you hear that oh so infamous and creepy soundtrack that let's you know Jaws is going to attack. You take that out of the movie and it just doesn't seem to make you as scared. Many thanks for the hard work these composers do for our entertainment.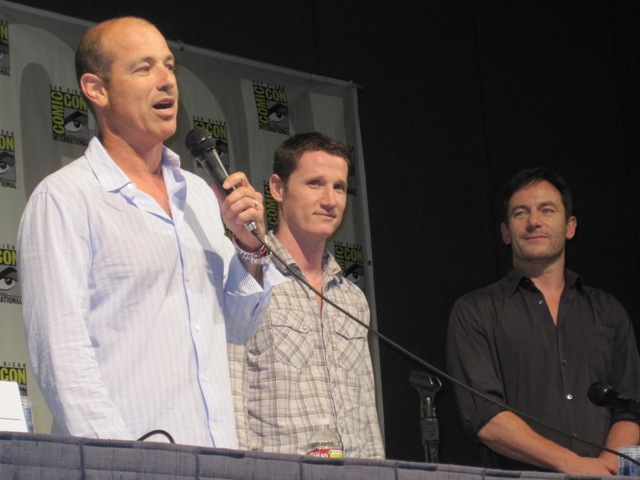 Thankfully I had! I did not have to rush over to another room for NBC's Awake panel. Awake is a new show starring Jason Isaacs. It's about a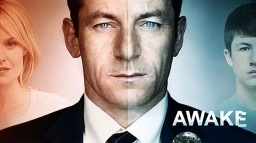 police detective that became involved in a car accident. The accident not only involved himself, but his wife, and his teenage son.Tragically only the detective and one other family member survived. After the accident his mind can not tell the difference of what is real and what is not from when he's awake or when he falls asleep. We were treated to a screening of the show and I have to say it was very intriguing.
The screening left me wanting to know what happens next and if Jason Isaac's character would figure out which reality is real. I'm honestly excited to see it how well it fairs with a broader audience. After the screening there was a Q&A with Jason Isaacs, Howard Gordon (Executive Producer), and Kyle Killen (Executive Producer). Jason did talk a little about what it was like to play Lucius Malfoy in the Harry Potter series. He enjoyed the scared reactions little kids would have once they realized he played Lucius. All three panelists also agreed that the audience happened to be the smartest they've encountered because of the type of questions that were asked of them.
Questions were asked similar to "Did you purposely change the coloring, hues, and soft tones between realities to distinguish the two?" I thought Jason Isaacs was entertained by the audience and as much as he entertained us. At one point he had to stop had to take a picture of the fans who asked him a question before he could answer him. Unfortunately, the Q&A session was about 15 minutes or so due to the screening. But I'm glad I had the opportunity to attend the panel.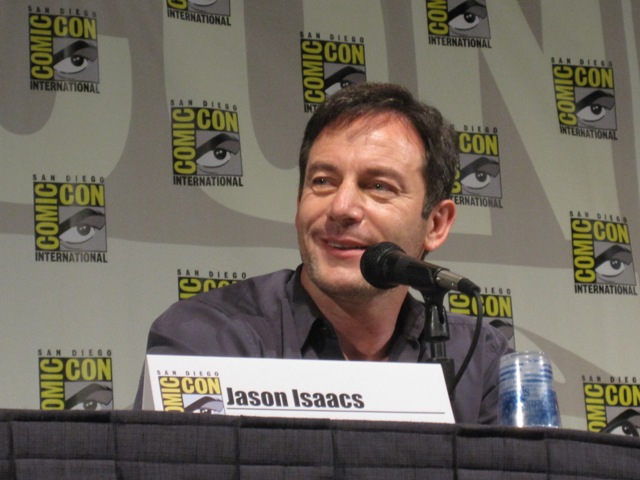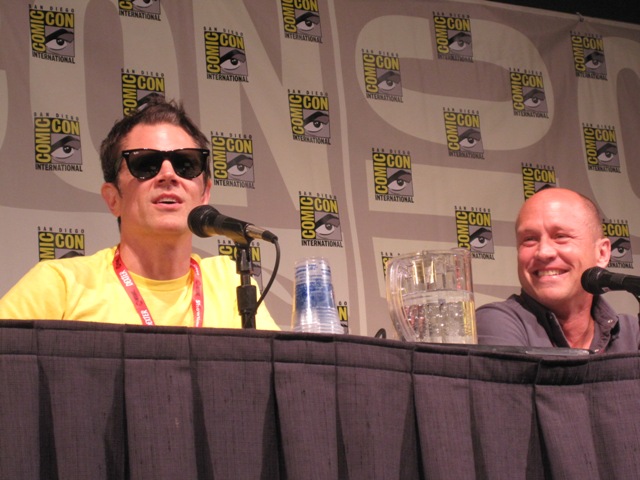 Quickly after Awake came the Beavis & Butthead panel. Ok, I admit at first I did not mind staying for the panel because I really wanted to
check out the Wilfred panel right after it. But I am so glad I stuck around. I have been a fan of Beavis and Butthead since I it premiered in the 1990s. I learned on the fly that Beavis and Butthead will be coming back to television as a series again. On the panel was Mike Judge (Creator) and Johnny Knoxville, who moderated.
Those of you who do not know Johnny Knoxville is from the main star of the Jackass series and movies. So I thought it was appropriate he would be the moderator. Johnny started the panel with pulling out couple of beers for both, himself and Mike Judge. The audience loved it, because it is a typical Johnny Knoxville antic. Johnny admittedly said he's not the best person to moderate, but he is a fan of Mike Judge's work. Mike talked about how he got Beavis and Butthead started. Talking about how MTV was accepting sketch work from all artists' experiences and his was chosen.
Shortly after we were treated to some clips of what to expect in the show. I could not stop laughing. Beavis and Butthead do continue to do their commentaries on music videos, but then they also get to do some about shows like the Jersey Shore and 16 and Pregnant. Soon after the clips both Mike and Johnny had finished their beers and Johnny commented that it would be nice if there were was more. Later during the panel a fan or staff actually got them both another beer each. Oh and fans did voice their condolences on Johnny's best friend Ryan Dunn's passing. It's amazing how fast time flies when you're having so much fun. What a great panel and I cannot wait for the premiere of Beavis and Butthead later this year.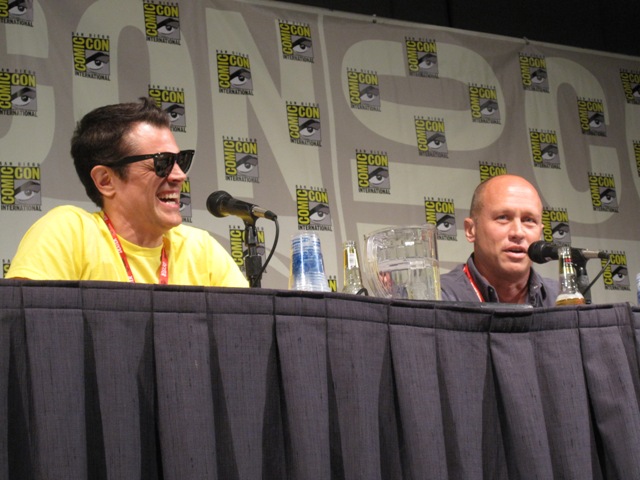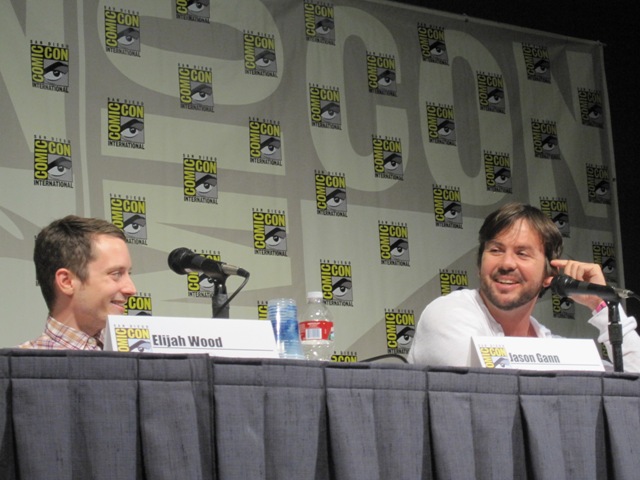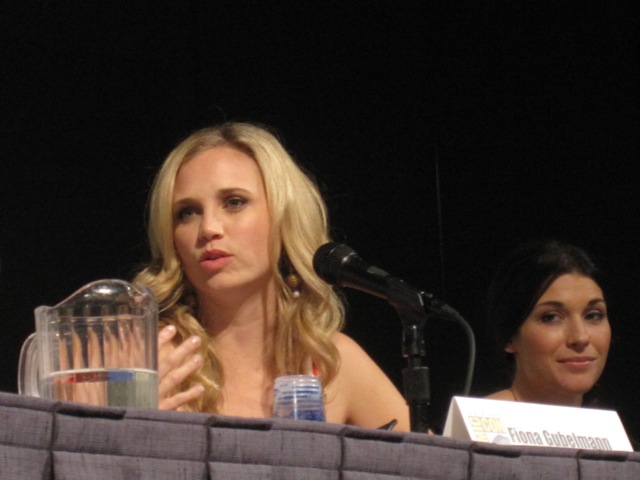 The last panel of the day was Wilfred. Appearing that day was Elijah Wood (Ryan), Jason Gann (Wilfred), Fiona Gubelmann (Jenna), Dorian Brown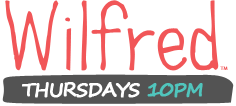 (Kristen), David Zuckerman (Executive Producer), and Randall Einhorn (Co-Executive Producer). It was a no holds bar panel where foul language was accepted and it was all about just having fun at Comic Con.
The fans mostly asked questions for Elijah. He did say that his character, Ryan is nothing like each other. Jason Gann who originally starred in the Australian version got a few in as well. It was interesting to find out how many dog suits Jason has for the show.
I believe they went with the dog suit he wears on the show because it fits and so the just replicated more of them. I do have to warn you if you haven't seen the show it's a meant for mature adult audiences. After the panel was through there was a mad rush to the possibly get autographs, pictures, or even a handshake from the panelists. One of the downsides of sitting in the front row was having to navigate my way through a mob of people. But I can't really blame the fans trying.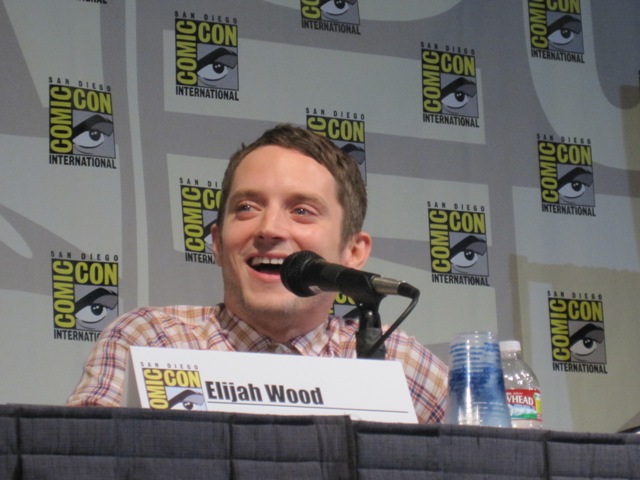 Once again our gratitude to Lorraine Canilao-Melquadies for her allowing use of her images! Thank you Lorraine! And that my friends was my Thursday of panels. I had a chance to link back up with friends and family and finally head back to our hotel and rest. There is no real time to rest when it comes to Comic Con, just go, go, go!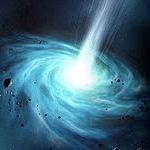 As always we appreciate your visiting our news sites at WormholeRiders News Agency.

Please feel free to leave a comment here, or if you prefer, click the social media icons below to share this news article or as many of our readers and visitors often do, visit WHR on Twitter, WHR on Facebook or visit me on Twitter by clicking the text links or images avatars in this news story and we look forward to will Seeing You on The Other Side"!