TORCHWOOD COMES TO COMIC-CON!!!
This year at San Diego Comic-Con the first panel we saw on Friday after being in line since 7AM was Torchwood: Miracle Day. This was probably our favorite panel of the entire con.
It was hilarious and a little racy! We got to see John Barrowman (Captain Jack Harkness), Eve Miles (Gwen Cooper), Mekhi Phifer (Rex Matheson), Bill Pullman (Oswald Danes), Alexa Havins (Esther Drummond), and the woman Rachelle want to be when she grows up, Jane Espenson!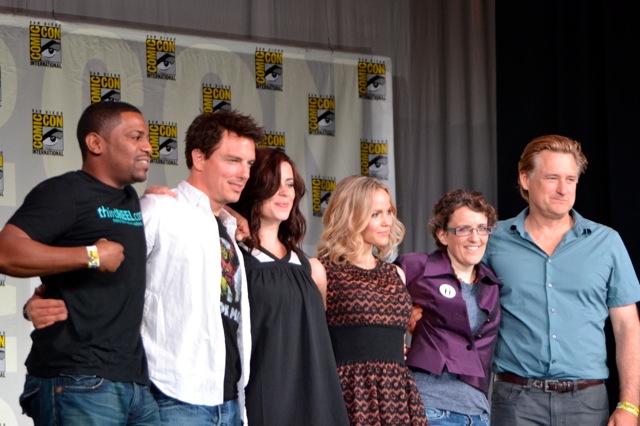 John Barrowman is so funny. He just has so much charisma and charm (even more than Captain Jack, if that's possible). He mentioned that the first night of the con he went out on the floor and spent $2000 (he says he buys all his shirts at the con). He  got a set of 24 superhero cups as well. Cocktails out of Batman tonight!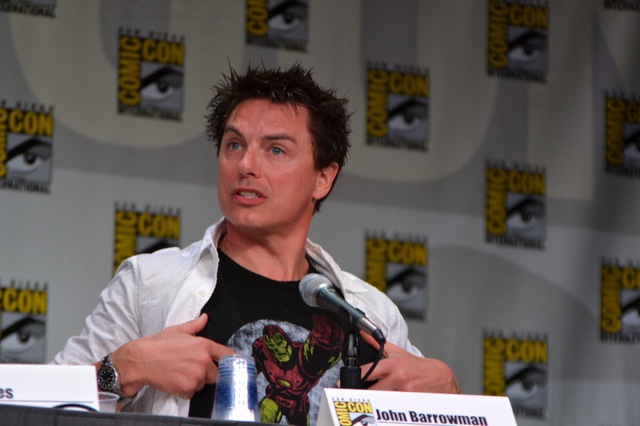 He was asked if he thought Torchwood would return to television after "Children of Earth". John said that he thought it might not come back due to how Children of Earth ended. He said he was very vocal about having Torchwood continue. It was asked if we would ever find out what happened to Jack between Children of Earth and Miracle Day and John said that it wouldn't be addressed this season, but it may be addressed someday down the line.
Eve said that it was very easy to slip back into Gwen's leathers and that she likes to go home in them because they are very comfortable and sexy.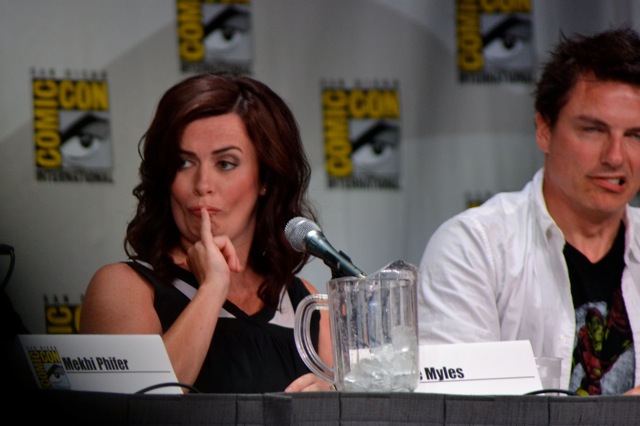 Jane was asked how they could top the 456 because it was so dark and you couldn't get darker than that. She mentioned that it COULD and WOULD get much darker. Jane said just wait until we get to episode 5 to see how dark Torchwood gets this season.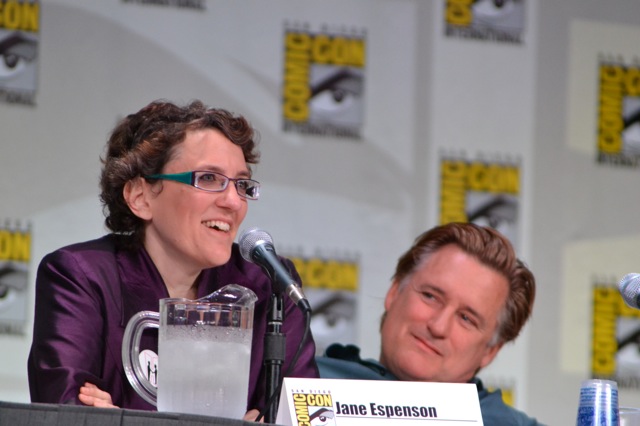 We got a really funny moment when Eve was asked to do the American accent she does in the show. She spoke a few sentences and John commented that she sounds very Jersey Shore!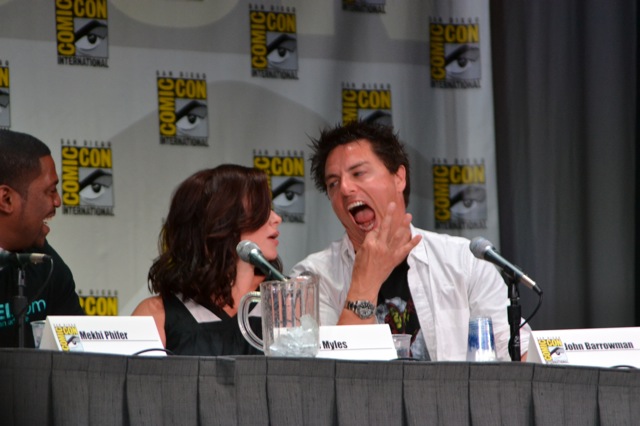 Mekhi's character and Captain Jack both get to do some L-O-V-E scenes this season. The panel talked about the joys of love-making on film. Mekhi mentioned that the scenes are very racy so they try and make the set very intimate. Apparently we get to see some of his butt cheeks.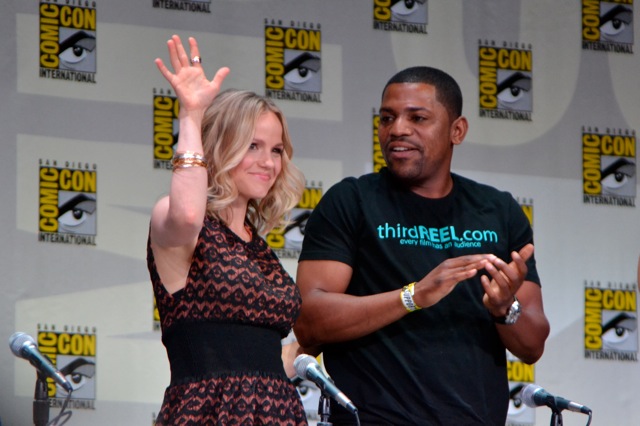 John mentioned that he has the best job in the whole world. One day he goes to work and blows stuff up and the next he gets to have sex with a 22-year old. What a life!
Matt Smith had mentioned that for the 50th anniversary of Doctor Who he wants to have Captain Jack make an appearance. John Barrowman said that he would love to. Please Please Please let this happen!!!!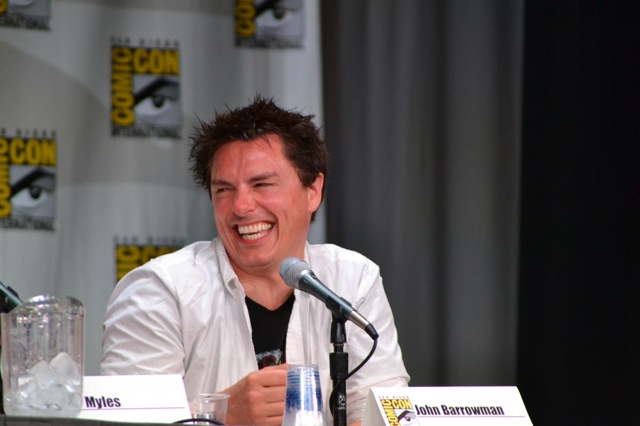 The funniest parts of the panel were when Eve mentioned that she loves L.A. because "In-N-Out Burger rocks my world", the massive flirtation between Eve and John and anyone who asked a question to the panel, and the story of John waiting in a shower to surprise Eve (You have to watch them tell the story on the video!). It was very obvious from the panel that the Torchwood set must have a very fun vibe, in spite of the dark nature of the show.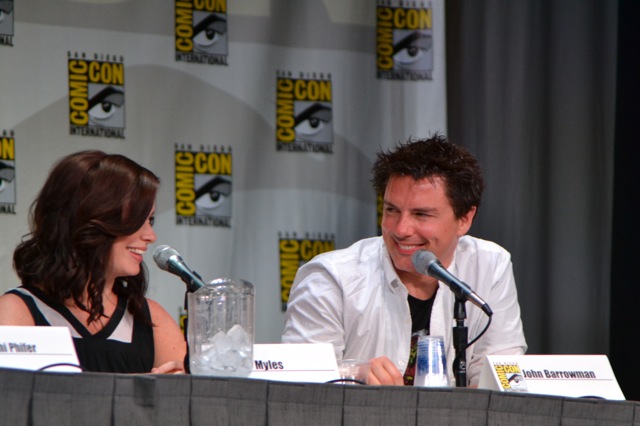 Check out the official Starz video of the panel below.
Watch new episodes of Torchwood on Starz Fridays at 10Pm ET/PT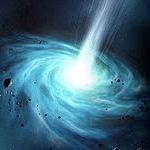 I hope you have enjoyed this article. As always we thank you for visiting WormholeRiders News Agency. Please feel free to share this news article by clicking one of the social media icons below.
You may also leave a spam free comment or question here, or feel free to visit and chat with us on Twitter by clicking our avatars or the text links in this news article.
Thank you
XO Anne Lamsa & Rachelle Smith, Ph.D.