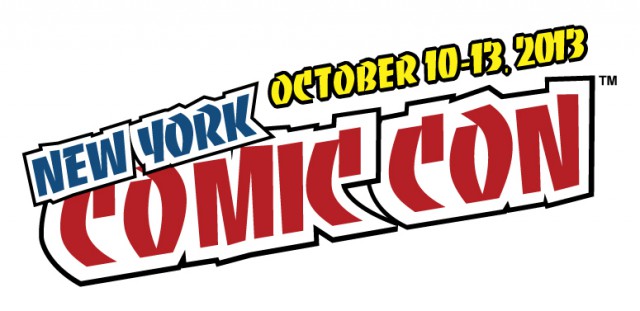 Welcome back New York Comic-Con 2013 fans!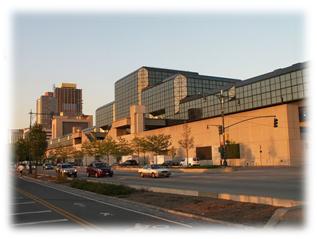 Hello again from the city the NEVER sleeps, NEW YORK CITY!!! We are back again for now its 8th year is ReedPOP's New York Comic Con (NYCC)! 
Held since its inception in 2006 at the Jacob K. Javits Convention Center, located on the west side of Manhattan, New York, NYCC has seen exponential growth – reaching 116,000 attendees last year (2012), and FAR exceeding the mark this year with a total fan attendance of 133,419 PLUS another 14,679 thanks to attending artists, speakers, guests, exhibitors, and media.  Makes me wonder, CAN they exceed 150,000 next year?
Again, taking our path of least resistance to get to the convention, we used the New York Waterways ferries to and fro and with ease got across the Hudson to the Javits Center. We checked in with ease, and then began to scout around and check the convention out.
Before beginning my review of NYCC day one, we include a fun melody by the Haven panel members; "The Troubles Song" for your enjoyment!
We went up to the friendly confines of the press lounge and got ourselves settled – rearranged our packs, and planned out the day.  After a short break, we picked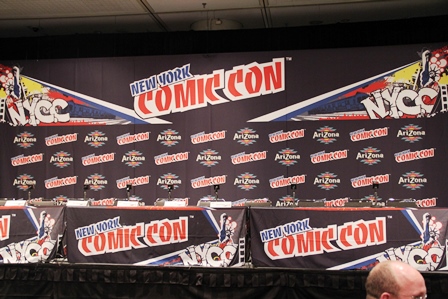 up and began to walk the convention center and get the lay of the land.  We found where the Empire Stage (1-E) was, where we would spend the end of our day attending the Haven Panel and the Sneak Peeks Pilot Screenings.
We continued through the bowels of the Javits Center, coming up to the main level at the main entrance to the building. 
Now, I forgot to mention that we arrived shortly after 10am, the convention itself did not open to the general public until 3pm.
That did not deter the most avid and voracious fans from beginning to line up then to get in 5 hours later. 
There had to have been a good 100-200 fans already by noon!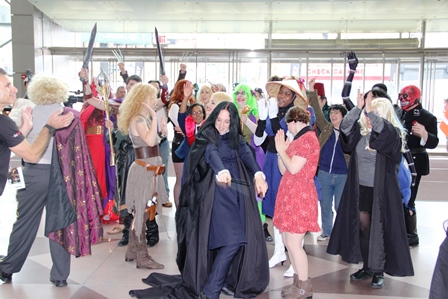 Proceeding through the main lobby, we happened upon a "Cosplay Dance Party".  Close to 25 cosplaying fans had assembled and, serenaded by an NYCC DJ, they circled around each other and had a ball. 
Entering the circle one by one or in pairs, they strutted from one end to the other in time to the music.
They were in the perfect frame of mind already, and all that gathered around to watch were also immediately transported to their happy place.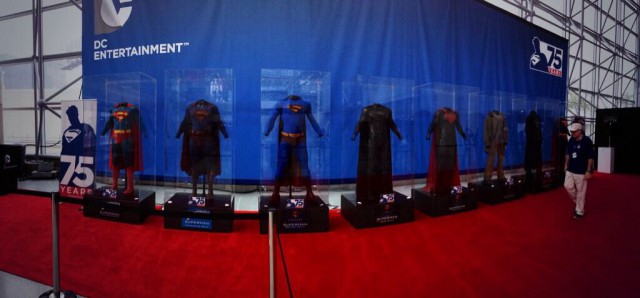 Being that it was the "Man of Steel's" 75th birthday this year, there was an assembled display containing various costumes over the years.  Starting with the original, George Reeves' costume, all the way to Dean Cain's used on "Lois and Clark: The New Adventures of Superman".  It really was quite the collection, my two favorites were those of the magnificent Christopher Reeve from his first two Superman movies – Christopher Reeve is my quintessential Man of Steel.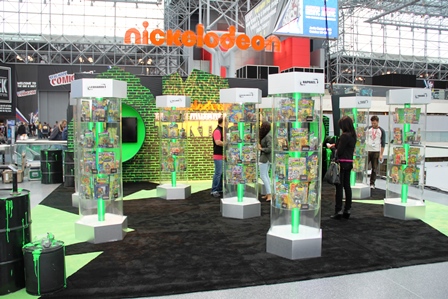 Walking around some more, we went over to the retrospective showcases of the Teenage Mutant Ninja Turtles.  There were eight cases in all, one for each of the turtles – Michelangelo, Donatello, Raphael, and Leonardo – plus a variety of other cases showing off various other friends and villains associated with TMNT.  It was really interesting to see a Star Trek Donatello in one case, and a Wolfman Raphael in another!  On the opposite side of the turtles was a Mega Bloks display venerating the "Call of Duty" series.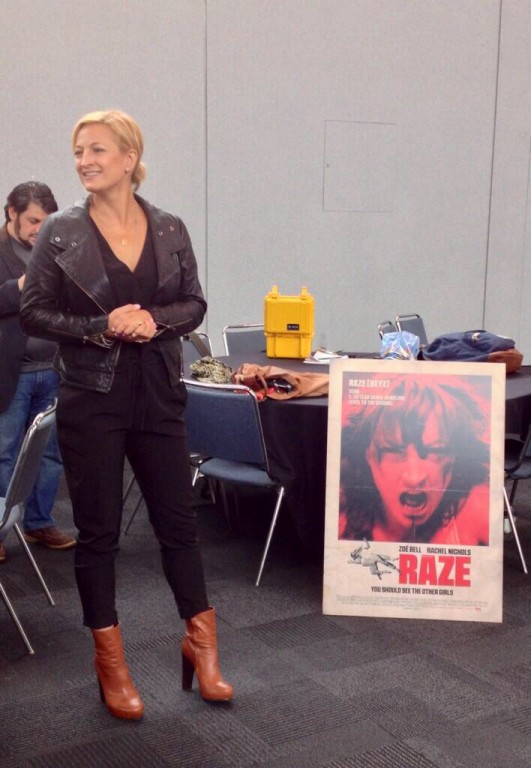 Venturing back up to the press lounge for another short break and a snack, we took another moment to gaze upon the Showroom as the final touches were being applied by the vendor and exhibitors.  While in the press lounge, we watched actress Zoe Bell greet fans and media, taking a some minutes with each to chat about her new film, "Raze".  Also with Ms. Bell was the film's writer and director, Josh Waller.
Once the Showroom floor opened, our first stop was the Hyundai "Walking Dead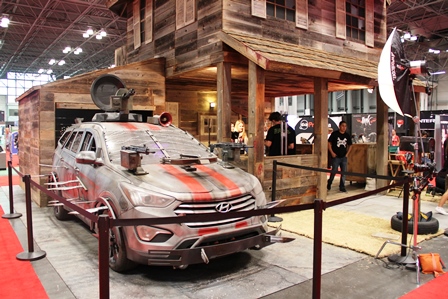 Chop Shop".  Here we saw a "zombified" Hyundai – zombified for zombie defense! Spikes, blades, barbed wire, machine guns, an armored hatch, they thought of everything!
The only downfall to this vehicle that I saw, was that it is still a gasoline machine – even if you carried fuel, you'd still have to leave its friendly confines to put fuel in its tank.  This booth was also zombifying attendants.  They'd sit you in a chair in the booth and professionally make you up as a zombie!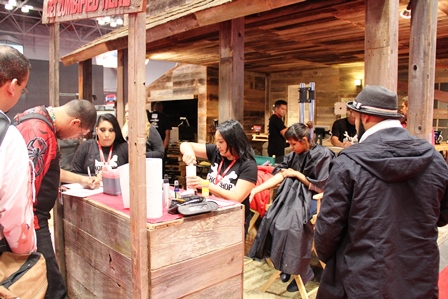 Walking around some more, there were collectibles of all kinds.  Some of the nicest that we saw were the Iron Men from a company call YesAnime.  From the Peace Maker suit to the Mark X suit, these collectibles were exquisite, ¼ scale models.  Most coming with interchangeable hands at the very least, and most were poseable to some degree as well.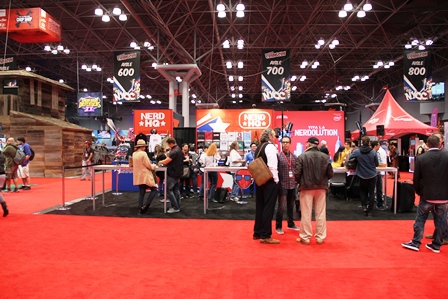 As we continued around "The Block" we noticed that some members of the Haven cast and crew were assembling at the NerdHQ booth.  As with San Diego Comic Con, Zachary Levi had orchestrated another coup for "Operation Smile" with his "Conversations for a Cause" Campaign.  It just so happened that this weekend's first visitors were from our beloved show Haven.  For a small fee, you could have your picture taken with them, and most of your fee went to charity.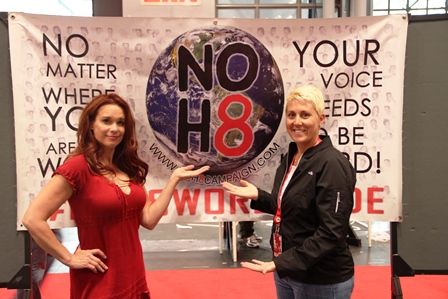 Perfectly placed opposite NerdHQ was Chase Masterson's "Anti-Bullying Coalition" and NOH8 booth.  We stopped by to say hi and to offer our encouragement for her cause.  This coalition and cause made its debut with a panel at San Diego Comic Con.  With its success there, it was brought to NYCC and assumed its rightful place here too. 
The booth was set up so that, over the course of the convention, one and all could have a place of respite and relief, as well as to put up a word or two of encouragement or forgiveness for those "trespassed upon" due to all manner of bullying.  There is plenty more to be heard from the Anti-Bullying Coalition and NOH8, thanks to their panel figuring in the final act of this year's NYCC.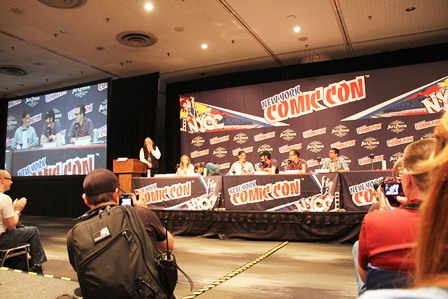 Right about now, it was time for the Haven Panel.  By now, many of you have heard about, and most likely seen the hijinks that ensued amongst these best of friends that assembled for this panel – the wedding, the Troubles Song (included above), and much more. 
Present for the panel this year were stars: Emily Rose, Lucas Bryant, Eric Balfour, Shawn Piller, Brian Millikin, Nick Parker, and it was moderated by our favorite Teagues brothers, John Dunsworth and Richard Donat.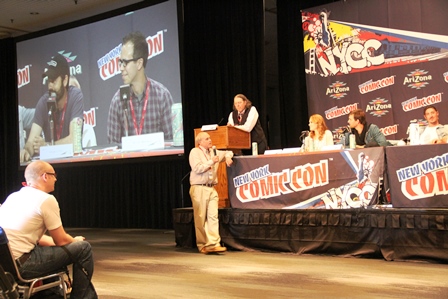 It did not take long for John Dunsworth to get warmed up.  Once given the floor, he took to the floor.  Unlike any panel I have ever attended, this was a very "interactive" panel.  Not so much a moderated panel as much as an immediate Q & A with the crowd.  Of course the panelists did their plugs and back pats, but almost straightaway it deteriorated into shenanigans with Lucas Bryant leading the way.  Not the only culprit, everyone fed off of everyone and the crowd soon became involved.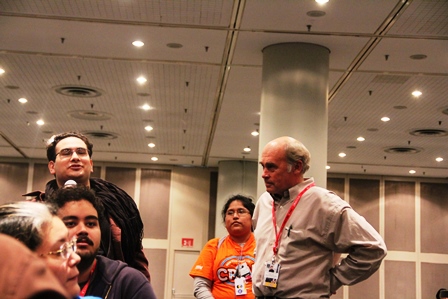 As John Dunsworth was on walkabout in the crowd seeking questions, there was nothing to do but to have fun.  We were told that this is going to be the best season of Haven yet, but as is the case with most panels, most details were not publicized – I mean, the goal is to keep us guessing and in suspense, right?  As Shawn Piller answered a question or two, Lucas Bryant suddenly produced a guitar.  This quick progressed into the "Troubled" song (included above), Lucas being backed by Emily Rose and Eric Balfour in succession, each singing their own verse; and all three coming together for a chorus.
As this enjoyable tomfoolery concluded, Eric Balfour seemed to have a spark of inspiration, like he suddenly remembered something.  And wouldn't you know it, he had!  While at NerdHQ earlier, an engaged couple had asked him if he would marry them.  Certainly in jest, but he had told them he would, and now, he was calling them out on it!! You've heard of speed dating? Well, this was a speed wedding, at the speed of Haven.  It was hilarious! And it went viral almost IMMEDIATELY!
It doesn't take much to see why this cast and crew is much beloved and admired by the fans and those involved in the production of Haven.  Very likeable and very approachable, they operate as a family, often acting as one too.  At the end of the panel, they all stuck around for a group hug, again, led by Lucas Bryant and Eric Balfour.  Once the group hug was finished, they were kind enough to hang out for a bit for photo ops and autographs.
After the Haven Panel came the Sneak Peek Pilots Screening.  We were treated to three pilots for this fall.  First up was the new project from Joel Wyman,  J.J. Abrams, and Bad Robot Productions called Almost Human.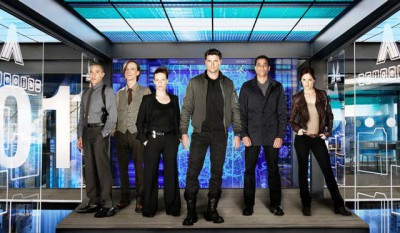 Set to premier on November 17, 2013, it is a crime series set in Los Angeles, 35 years into the future.  Almost Human pairs human officers with android officers – for the human officers' safety.  It stars Karl Urban and Michael Ealy as its principal characters, John Kennex and Dorian respectively.  We enjoyed this pilot, and are hopeful for more and a long run for this show.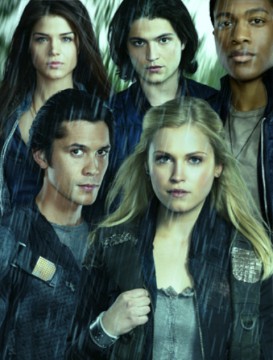 Next up at the pilot screenings was The 100.  This is a CW offering, currently slated for a midseason debut.  It is a post-apocalyptic drama that pits 100 adolescents "with" each other on a return to earth, 97 years after nuclear annihilation. 
The 100 stars Fringe alumni and fan favorite Henry Ian Cusick, as well as TV and movie veteran Paige Turco and a newcomer to American TV Eliza Taylor, most noted for her role in Australian television's The Neighbours.  The adolescents are sent back to earth from a space station to gauge the viability of earth, as well as to test their ability to cooperate and work together to succeed in reestablishing an earth colony.  It is based on the bestselling novel of the same name, and looks promising as well.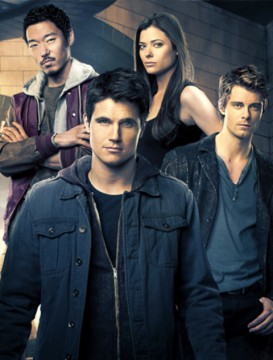 The last pilot to be screened this evening was Tomorrow People. Another CW product, it had actually had its premiere the previous night (October 9), following Arrow.  A reboot of a British television series of the same name, it follows a troupe of young adults that possess "super" powers through mutation as a result of human evolution. 
Starring an up and coming Robbie Amell as the "heir apparent" of the Tomorrow People, his missing father is described as the most powerful of the Tomorrow People, the series also stars Luke Mitchell and Peyton List.  The trio that leads the Tomorrow People work to suppress Ultra, a group that seeks to remove the powers of the Tomorrow People across the globe.  Receiving mixed reviews in its first week, we shall see what time holds for this series.
Well, as that pilot came to a close, so did our first fun filled day of this year's New York Comic Con.  Thank you for taking the time to stop here at Convention Corners at Wormhole Riders News Agency, and to Kenn for the final staging and editing of this installment!  Keep reading and wanting for more, and you never know, you may just get more! (Trust me, there is more!).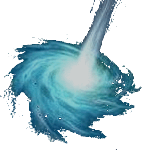 Thanks to Kenn for the final audio, video-embedding, and image staging, and many thanks to you for reading and for visiting Convention Corners at WormholeRiders News Agency!
Please feel free to leave a comment here, click an icon below to share this article, or you can chat and follow me on Twitter , just click on my avatar to the right.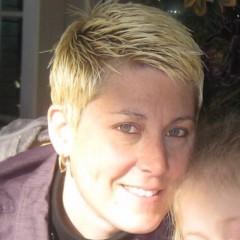 Thank you,