Welcome back WormholeRiders, Dominion and San Diego Comic-Con admirers!

On Friday July 10, 2015, at the world famous cultural event known as San Diego Comic-Con, we at WormholeRiders had the distinct honor of meeting and interviewing Bill Brown, the well known and talented composer of the acclaimed hit Syfy series Dominion!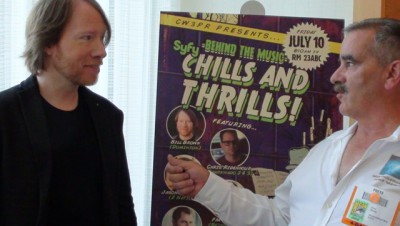 Bill Brown is not only a talented individual, he is fun person always smiling and will to share his career experiences with his dedicated admirers!
This admiration can be witnessed each Thursday evening on Twitter when he interacts with his fans about the superb music composition for Dominion! This editor has enjoyed Mr. Browns work during the second season of Dominion. Like millions around the world, I also hope that Dominion is renewed after the season two finale airing this Thurday, October 1, 2015 on Syfy!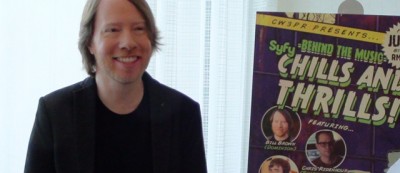 It was a pleasure meeting Bill Brown at San Diego Comic-Con courtesy of the great team at CW3PR who have produced panels at SDCC for many years. We hope you enjoy Bill's interview, included above, as much as we did in interviewing this talented individual!
Like millions more fans, I have enjoyed the magic that Bill Brown has brought to the gaming world composing the fabulous orchestral and electronic scores for famous game titles including Tom Clancy's "Rainbow Six" and "Ghost Recon", Clive Barker's "Undying", the cult classics "Return to Castle Wolfenstein", "Lineage 2", "Command and Conquer: Generals" and most recently in the superhero based game "Captain America: Super Soldier".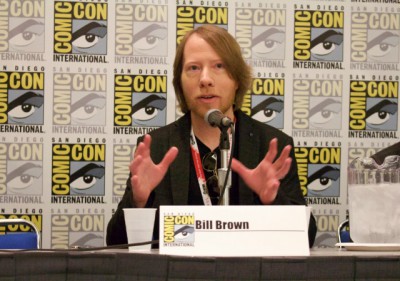 Like many video game lovers, I have invested countless hours enjoying not only the video games mentioned above, but becoming completely immersed in the action as a result of the enchanting music scores created by the gifted Bill Brown!
Bill Brown recently completed scoring his ninth season composing for the hit CBS series "CSI:NY". In addition to Dominion, Bill has composed scores for the films "The Devil's Tomb" starring Cuba Gooding Jr., "Dark Prophecy" directed by Anthony Zuiker, "Trapped", "Brother's Keeper", "Dermaphoria", and an outstanding French language independent film named "Layover". Bill Brown admirers will recall that "Layover" recently premiered to well received reviews and ecstatic audiences at the Seattle International Film Festival last year in June of 2014.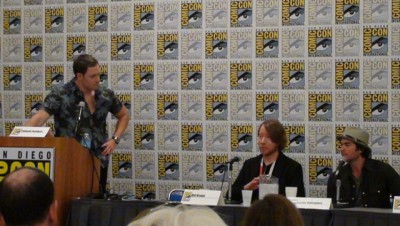 Bill Brown continues to write powerful orchestral and electronic scores for hit video game titles. His accomplishments include newer offerings such as "The Incredible Hulk: Ultimate Destruction" for Vivendi Universal!We certainly hope Bill will return for more seasons of the wonderful fantasty action series Dominion!

Bill's superb music scores have been nominated for award consideration by the British Academy of Film and Television Arts, L.A. Weekly, and G.A.N.G., and have won awards from the ITVA, and BMI as well as the Music4Games Editor's Choice award.
Stay tuned as the WormholeRiders News Agency Team announces more of our San Diego Comic-Con and new WHR You Decide video interview series during 2015 and beyond!

In the meantime, please feel free to share this article with your friends, co-workers and or family by clicking one of the icons below. We thank you for visiting and express our sincere gratitude for doing so!

Feel free to visit WHR on Twitter, WHR on Facebook or visit me on Twitter by clicking the text links or images avatars in this news story. I and Team WHR look forward to Seeing You on The Other Side in 2015!

Thank you.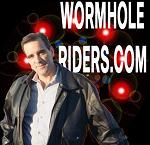 Best Regards,
WR_Systems (Kenn)