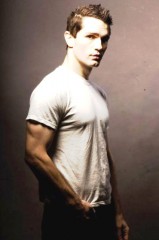 Welcome back WormholeRiders and Origins Game Fair gaming fans!
Can you believe it has been 3 months already since Origins Game Fair was held?? WOW! Time has flown by! In an effort to keep your dampened spirits raised and to lessen the wait for next year, TeamWHR is pleased to present to you an exclusive interview with none other than Origins' 2015 Special Guest Sam Witwer.
Mr. Witwer was THE perfect fit for this year's Origins – with their theme being space and the industry of gaming, it seemed to be a pod full of spot-on and ideal peas. And oh yeah, the BattleTech pods were back again this year, and Mr. Witwer left his mark on one as he played and engaged other Mech pilots in the Virtual World pods.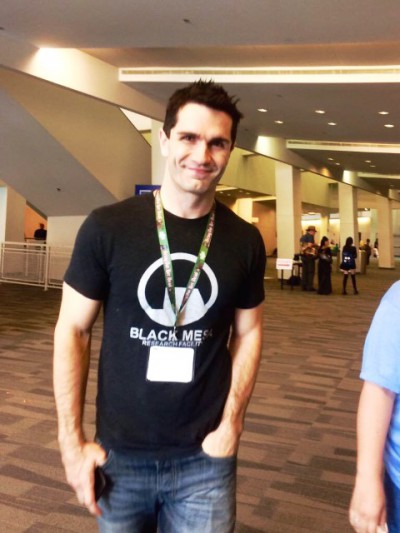 A Julliard-trained actor and an accomplished musician, Mr. Witwer is best known for his role as Aidan Waite on Syfy's Being Human. He also held roles in Smallville as Davis Bloome and on Battlestar Galactica as Lt. Crashdown.
Did you know that Mr. Witwer also played a "walker" in the early part of season one of The Walking Dead? Yep, that was him in the tank in the middle of Atlanta!
Sam has also had some involvement in the animated world as well, as the Ocean Master in Justice League: Throne of Atlantis and the central character in Star Wars: The Force Unleashed, Galen Marek/Starkiller.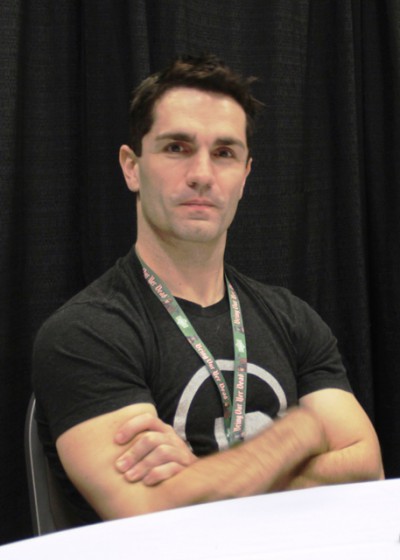 That is not the only experience in the Star Wars world, Mr. Witwer can be heard as The Son and Darth Maul in Cartoon Network's The Clone Wars. He is not only an actor in this universe, he is a fan. He is a fan of the genre and all it encompasses, which truly makes him the perfect guest this year.
Mr. Witwer is a rabid fan of the Star Wars roleplaying games as well – both the conventional kind with pen, paper, and a GM (game master), and of the electronic kind; especially having lent his voice and likeness for both Star Wars: The Force Unleashed and its sequel. For a complete list of his Star Wars roles, check him out at IMDB.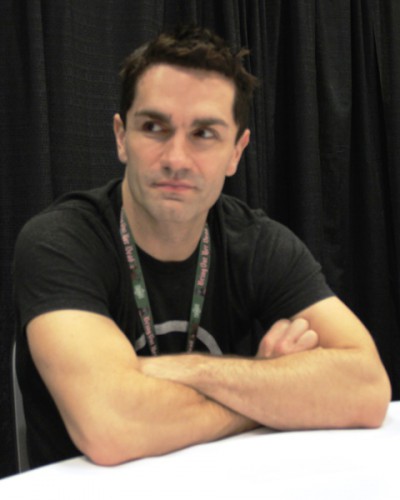 His love for the genre is not only limited to Star Wars, he loves all manner of science fiction and fantasy entertainment.
We suggest that you do not question him on his thirst and knowledge of Star Trek either, he even had a Star Trek case for his phone!
Well versed in each 'verse and in the growing gaming world, I am pretty sure that Mr. Witwer enjoyed his weekend at Origins Game Fair 2015 as much as we did having the privilege of interview him!
So sit back and relax, and enjoy this exclusive WormholeRiders interview with supremely talented Sam Witwer, this years very special guest at the outstanding Origins Game Fair 2015!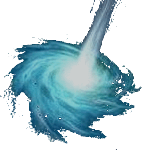 Thanks to Kenn for final audio, video embedding , and additional image staging, and many thanks to you for reading and visiting WormholeRiders News Agency.
Please feel free to leave a comment here, click an icon below to share this news article, or you can chat by visiting and following me on Twitter, just click on my avatar to the right.
Thank you!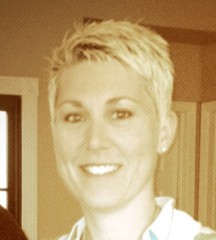 Karina (FidgetTBC)