Welcome back WormholeRiders, CW3PR and San Diego Comic-Con lovers!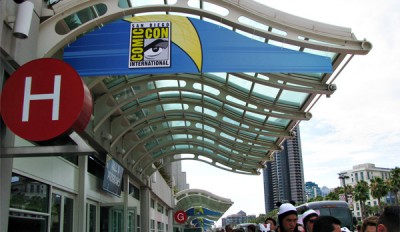 At the San Diego Convention Center on the morning of Friday, July 10, 2015, CW3PR presented six of the most gifted music composers from Syfy's most popular television series.
The honored guests, who appeared together for the first time at San Diego Comic-Con, shared how music has influenced their lives, thoughts on the audience experience, and, how each made what we enjoy better!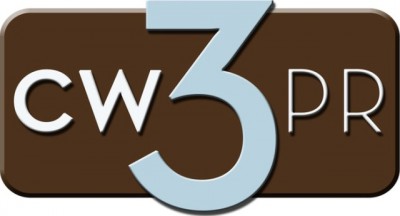 Since we have had the privilege of covering CW3PR in 2011 at San Diego Comic-Con, we have always had the greatest respect for the quality of events they produce! Now in their seventh year of organizing superb convention events, and some seventeen outstanding panels later, we here at WormholeRiders have both loved and enjoyed the exciting panel events created by the wonderful team at CW3PR!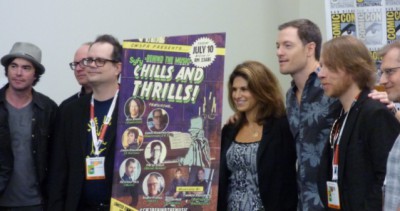 CW3PR events edify a simple fact; Without the music in the series and movies we love, entertainment would be less than what the composers like Bill Brown (Dominion), Jason Gallagher (Z Nation), Reinhold Heil (Helix), Shawn Pierce (Haven), Chris Ridenhour (Sharknado 1-3) and FM Le Sieur (Being Human) help make them become! We hope you enjoy the "Syfy Chills and Thrills" panel video as much as we did attending the event!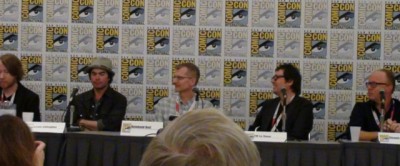 Sharing details about how they approach their distinctive craft, and the dedicated hard work that goes into making the audio in the background (that is often taken for granted), these six genius' talked about working on the many of the lastest Syfy network's top hit shows.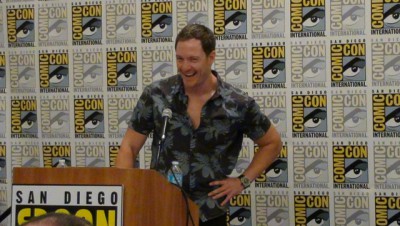 The panel was moderated by charming Syfy star Tahmoh Penikett (Battlestar Gallactica, Continuum, Haven), who helped fill the room with cheering fans who know how important music composition is to the series we all admire.
It is no secret to those in the entertainment industry that CW3PR has created some of the most important panels at San Diego Comic-Con, those dedicated to the composers of television and film that make the entertainment we love come to life!
The "Syfy Chills and Thrills" panel is described by the wonderful team at CW3PR as follows: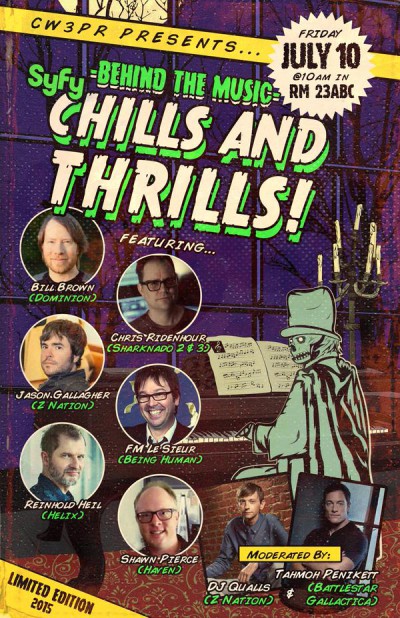 "To start off the panel, panelists discussed what interested them most about scoring for Syfy, and the challenges that come with scoring a science fiction score. Shawn Pierce expressed how much he loved working in the Sci-fi genre, saying, "In this genre what's so fun for us is that the box of what's expected is expanded. We're taken to a real fantastic space, so our boundaries are expanded and we can do so much more." Bill Brown spoke about how he treats different characters in his projects, and how a character's sounds and themes evolve as a project develops: "With Dominion, I went into it with the idea that I really wanted it to be thematic. I actually dreamed two of the themes. Michael's theme is exactly as I dreamed it… Alex's theme became the main title."
The panel also expressed that the musicians were just as excited about the shows they work on as the fans, and how that was a huge inspiration for them. FM Le Sieur discussed his process, saying "Every time I receive a new episode I watch it before I start composing because I want to see what happens next."

Chris Ridenhour discussed his thoughts on live versus digital instrumentation, and how they impacted his scores: "For me, having live musicians is absolutely crucial…when you try to emulate an orchestra, it's like being in a beautiful garden where everything is made out of plastic." The panelists highlighted some of their personal favorite instruments, ranging from Reinhold Heil's vast collection of obscure instruments, to Brown's Millennium Falcon shaped electric guitar.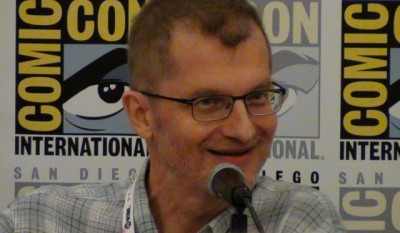 Heil also talked at length about his strong interest in cutting-edge sound technology, and how he enjoys pushing the envelope of what sound and music can do in a show. In my case, anything that can happen, happens…" he laughed, "except for the orchestra because there's no money for it." Jason Gallagher added his perspective, saying "I lucked out with Z Nation because the direction I got was 'let's make music out of stuff that would be found in the apocalypse…' Let's replace the orchestra with things that can be found."  This led to Gallagher incorporating sounds from eclectic materials such as wood, metal, and amps powered by battery."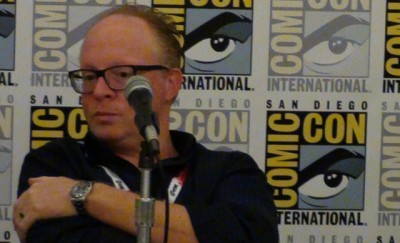 We will return in the near future with San Diego Comic-Con "Syfy Chills and Thrills" Press Room interviews (courtesy of CW3PR) featuring Bill Brown, Jason Gallagher, Reinhold Heil, Shawn Pierce, Chris Ridenhour, FM Le Sieur and panel moderator Tahmoh Penniket as well as "Crime and Punishment" Press Room interviews.
Stay tuned as the WormholeRiders News Agency Team announces more of our WHR You Decide and convention  based video interview series during 2015 and beyond!

In the meantime, please feel free to share this article with your friends, co-workers and or family by clicking one of the icons below. We thank you for visiting and express our sincere gratitude for doing so!
Feel free to visit WHR on Twitter, WHR on Facebook or visit me on Twitter by clicking the text links or images avatars in this news story. I and Team WHR look forward to Seeing You on The Other Side in 2015!

Thank you.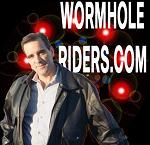 Best Regards,
WR_Systems (Kenn)