Welcome back Van Helsing lovers, WormholeRiders and Vampires around the World!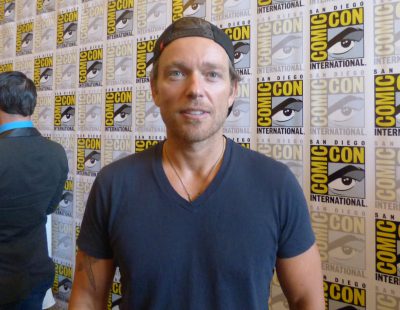 Team WHR is ecstatic to continue our SDCC 2017 coverage with one of our favorite series, Van Helsing, when we were honored to be invited to interview several of the series stars at San Diego Comic-Con 2017, courtesy of the great team at SYFY!
Our next special report is with Van Helsing vampire victim savior Jonathan Scarfe. Jonathan portrays the series character Axle Miller, an authentic hero who saved "Doc" Rukiya Bernard after she was afflicted subsequent to the world being overrun by a vampire outbreak.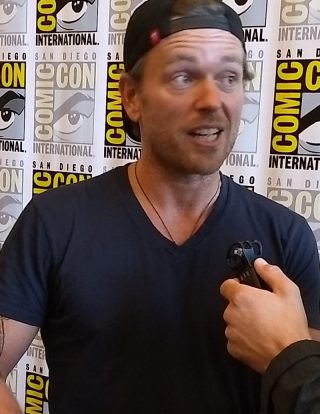 Sent in to Seattle to identify the source of the cataclysm, we witnessed Axel protecting "Doc" and Vanessa Kelly Overton in the opening episodes of Van Helsing. Obviously following his orders as a dedicated servant of the people in our armed forces, Axel moved to ensure that the remnant of normal humans within the hospital stay safe to repopulate the Earth and overcome the vampires who have evil plans of their own to covert our fair planet to a blood sucking system of hideous creatures!

As season one of Van Helsing proceeded, Axel continued to protect Vanessa in the barracaded Seattle hospital with his crew, including another of our favorite characters, baseball bat wielding warrior Sam (Christopher Heyerdahl). Axel successfully battled the vampire infestation to the delight of the human race leading up to a confrontation that will forever alter the fate of humanity, including developments that will adversely affect his own life!
Unfortunately, as we learned in season two of Van Helsing, our awesome friend Axel, while fighting in a fortress defended by vampires Julius (Aleks Paunovic), Rebecca (Laura Mennell), and Dmitri (Paul Johansson) to vanquish the blood suckers, our hero himself becomes a victim of the vile vampires!
Appearing at San Diego Comic-Con 2017 with main cast members Aleks Paunovic, Kelly Overton (via video link), and Christopher Heyerdahl and Rukiya Bernard, Jonathan was a delight to meet in person after following his career for over twenty years!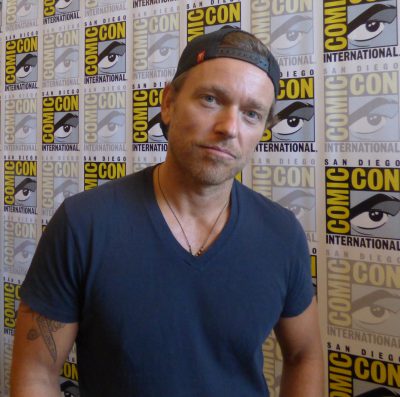 Hailing back to my first memory of Jonathan Scarfe, when he appeared as a "TekKid" with William Shatner (Star Trek), Laurie Holden (The Americans), Maurice Dean Wint (Haven) and Greg Evigan (B.J. and the Bear) in the cult classic science fiction television movie, TekWar: TechLab (1994).
The product of Shatner, TekWar went on to three successful series years as Jonathan expanded his entertainment career presence on our screens in some ninety movies and television series beloved by his admirers including Murder, She Wrote, The Outer Limits, ER, Liberty Stands Still, The L Word, Smallville, Hell On Wheels, and many more!

The fabulous career of Jonathan Scarfe ultimately led to his starring role in Van Helsing, one of our most favorite series now in it's second hit season on SYFY in the United States!
We look forward to learning about the back story of Axel in this exciting science fiction series and thank Jonathan for his time this year at San Diego Comic-Con 2017!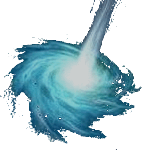 Please feel free to share this article with your friends, co-workers and or family and to leave your comments! We look forward to you visiting #TeamWHR here at our Conventions Corner and Main Blog web sites when we release more of #TeamWHR's exclusive Van Helsing, Ghost Wars and 12 Monkeys interviews from SDCC2017.
See you next in the very near future with our exclusive interview of Chris Heyerdahl!

Or as many of our readers and visitors often do, visit WHR on Twitter, WHR on Facebook or visit me on Twitter by clicking the text links or images avatars in this news story. I and the WHR team look forward to Seeing You on The Other Side!"
Thank you.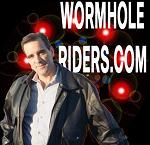 Best Regards,
Kenn of #TeamWHR