Welcome back to WormholeRiders Convention Corner!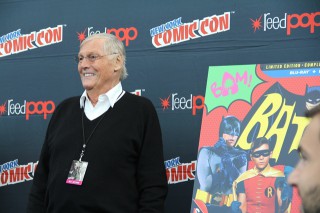 This special edition from this year's visit to New York Comic Con (NYCC) celebrates the 75th anniversary of Batman, and what a better way to start the convention than a Q&A session with the ORIGINAL Batman himself Adam West?
As this is the 75th anniversary of Detective Comics' Batman, what better a time to release Mr. West's series on Blu-Ray and DVD?
A select group of media outlets were fortunate to gain access to the incomparable Adam West for a Day One Q&A session to promote the November 11, 2014 release of his Batman series on Blu-Ray and DVD.
Energetic, enthusiastic, and animated, Mr. West entered the room with confidence and a coolness that commanded attention – the room became hushed as this genius entered, he showed no sign of slowing down, a man on a mission and he was here to present his case.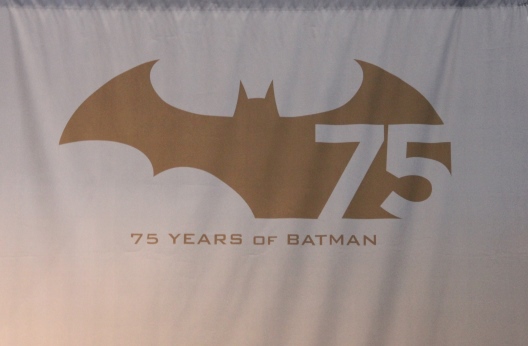 As excited as a kid in a candy shop, Adam West could not be happier to be at NYCC for the 75th Anniversary and the Blu-Ray release of his Batman series – ALL episodes, the Green Hornet crossover, and all window cameos are included, just to name a few of the specialties…in case you were still undecided as to whether or not you are going to purchase this special collection.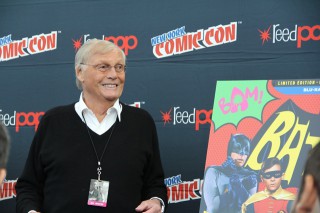 Fielding questions such as who would he have liked to have worked with if given a chance, Robert Mitchum, saying that he like his work and that Mr. Mitchum made sense to him.
A gem of a response was offered when questioned about the longevity of the series, we got this answer, "the longevity of a television series depends on the affection people have for the leading characters."
And with that simple reply we catch a glimpse of just how far reaching and beloved an actor Mr. West and HIS Batman really are.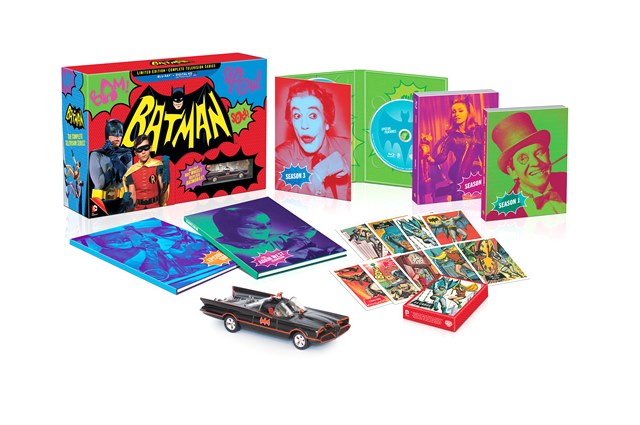 Mr. West continued to field questions from the media, and his answers continued to amaze us. Such as his recounting all of the actors he had had the privilege to work with, noting that in all of Hollywood he probably has worked with more big names than any other actor.
That train of thought led him back to the longevity question, expanding upon it by saying that the popularity of his Batman series generated so much attention from the big names that there were often days that he did not know who was going to be on set and who he may have been working across from on any given day.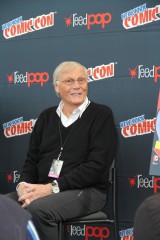 One of the funnier responses happened when Mr. West commented on how Catwoman (Julie Newmar) gave him "curious stirrings in his utility belt"…he is a very funny individual, who often had to play the straight man as Bruce Wayne and Batman to the shenanigans of his villains – it sounds like some of that pent up humor is making its way to the surface and boiling over!
And ever adamant about not ever taking anything away from the actors to follow with their interpretations of the character, Mr. West seems to always be proud of his followers as they too are a Batman, a Batman of their kind, each bringing a fresh approach to the portrayal of the character.
From the Q&A to begin the day, Day One of NYCC 2014 wrapped with TVGuide's Damian Holbrook moderating Adam West's Batman 75th Anniversary Panel.
This panel was pure entertainment; there was no better way to kick off NYCC 2014. A true gentleman and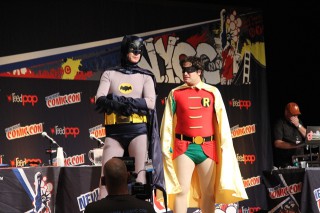 truly humble, Mr. West LOVES his fans – I could not count how many times he declared that without his fans he would not be able to enjoy the success that he has had, and continues to have.
Mr. West says that if he had only had one fan, he would be successful, that he has done something right. He recalled his daily mantra while on the set, "do something to the best of your ability and bring something fresh every day."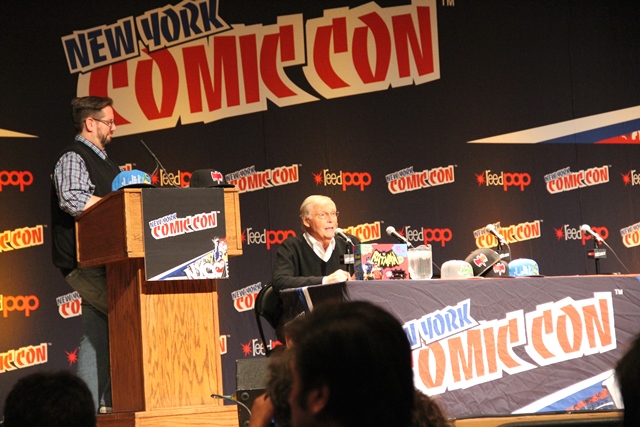 As the floor was opened up to audience questions, there were a few that stood out. First, when asked what Mr. West bought with his first Batman paycheck, he couldn't recall, but gave us this story instead. Mr. West told us of how he once tried to borrow the Batmobile, but alas, was not allowed off the lot. Instead, he remained in costume for Halloween and went door to door, remembering that one woman even fainted at Batman being at her door.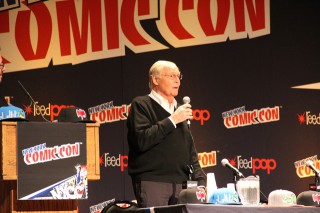 Another fan asked if she could give him a hug – but before Mr. West could get his response out, moderator Holbrook declared that Mr. West was not allowed…however, Batman himself quickly quipped, "what are you doing later?"
And another admirer asked Mr. West which Batman was his favorite? Recalling a meeting earlier in the day with George Clooney, who incidentally apologized for "killing" the franchise, Mr. West was quick to reply that in his opinion the character has taken on a darker side and image for his liking, each actor to portray Bruce Wayne and Batman has brought their own unique talent and interpretation to the character, BUT Adam West's interpretation IS his favorite!
Finally there was the requisite and obligatory Mayor West question, about why he said yes to the character, the response was simply, "because it gives me a chance to make fun of myself."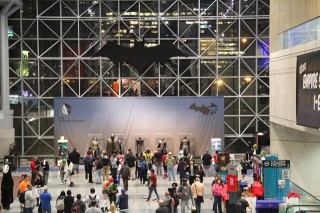 It would almost appear as if Mr. West was destined to play Batman, he recalled drawing upon life experiences as a child, "with a blue bath towel" for a cape. He described how he would try to make every day on set fun, to always keep moving and thinking, how he made the costume work for him. One of the final fan questions asked how "it feels to be great"…humble as ever, Mr. West replied by simply saying that "you (the fans) are the reason why he feels great – an actor wants to be loved, wants fans to think, and to make them want to lead lives outside of their own, to be better."
I tell you, my heart swelled listening to the man; he is a god among actors and celebrities, yet we were all given the chance to see a gentleman, a fan of his fans, a man who truly enjoys his life and his work.
So please, join us in picking up your copy of the original Batman series on Blu-Ray or on DVD. This IS a collectible set, complete with your very own Matchbox Batmobile. This set contains all 3 seasons, all 120 episodes; with over 3 hours of special features on the Blu-ray release, including interviews with Julie Newmar, Burt Ward, and of course Adam West. The packaging comes with full vintage trading cards as well as a Hot Wheels Batmobile. We had one tremendous day, and it is now time for us to say goodnight Gotham, for tomorrow we watch Adam West as the original Batman on Blu-Ray, introducing our next generation to the wonderment and wackiness that is The Batman!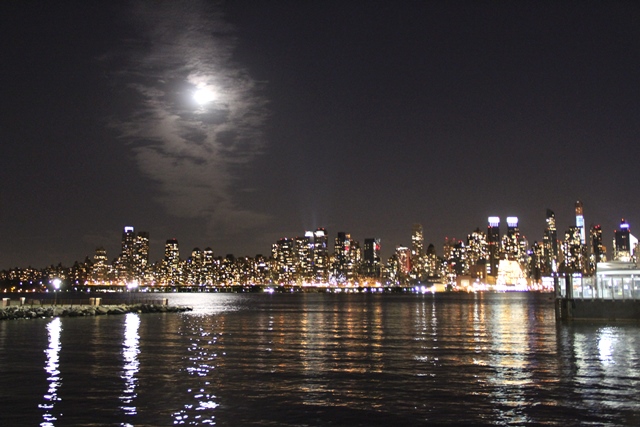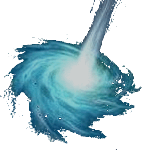 Thank you for taking the time to stop here at Convention Corners at Wormhole Riders News Agency and to Kenn for the final staging and editing of this installment! Keep reading and wanting for more, and you never know, you may just get more!
Please feel free to leave a comment here, click an icon below to share this article, or you can chat and follow me on twitter, simply click on my avatar.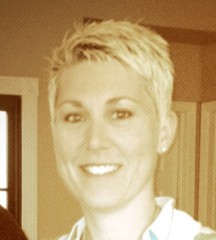 Thank you!
Karina (@FidgetTBC)