My fellow Comic-coners!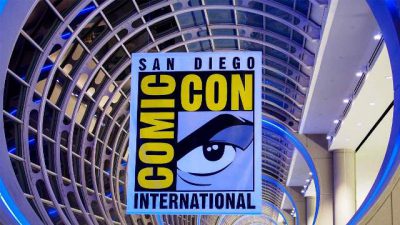 Another year, and another endless array of panels, swag and all sorts of craziness to partake in. Every year I have great interviews lined up and 2016 was no exception.
I was lucky enough to be a part of the CBS fan favorites press room which featured stars from American Gothic, Scorpion, NCIS, NCIS: Los Angeles, Zoo, Criminal Minds, the new show Criminal Minds: Beyond Borders and the new reboot of MacGyver. Needless to say it was a bevy of amazing talent both on and off screen.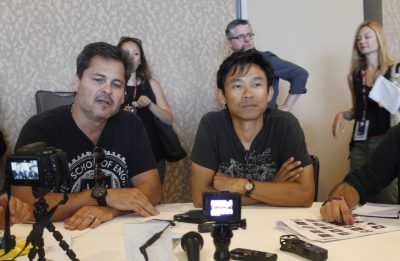 CBS always has such great shows and great diversity in their casting, which is always a plus in my book. Two of the men that we were able to talk to first was Peter Lenkov and James Wan who are the executive producers for the new reboot of MacGyver.
Both of these men have impressive resumes. Lenkov is responsible for bringing the reboot of Hawaii 5-0 back in 2010, he served as executive producer for CSI: NY and has other television credits to his name such as 24, The District, La Femme Nikita to name a few.
Wan is another powerhouse behind the new MacGyver reboot and his credits are definitely worth noting. His most notable, recognizable projects are Furious 7 (which he directed) and the popular Insidious movies. He is also the co-creator of the immensely popular Saw franchise. Needless to say, both men are very busy and their successes speak for themselves.
One of the first questions was obvious "why reboot such an iconic and beloved show?" The answer to that is why not bring it back. Both Lenkov and Wan were great fans of the original MacGyver (1985) that it made perfect sense to introduce a whole new generation to this wonderful cult series.
There have been sho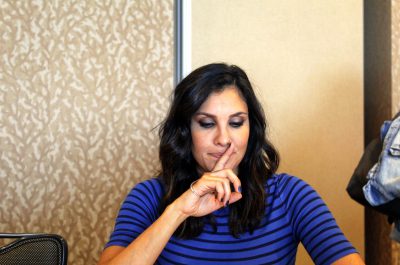 ws that become nostalgic and others that become such cult favorites that an SNL skit affectionately name MacGruber not only becomes a fan favorite but a movie comes to fruition as well. They both spoke about the new reboot with giddy enthusiasm which became infectious to all at the table. They sang the praises of the star Lucas Till and definitely acknowledged that he had some big shoes to fill (Richard Dean Anderson's to be exact) and is doing so perfectly. Luckily, George Eads (CSI) is there to help Lucas along in the process. Once Lenkov and Wan finished answering our barrage of questions, they were whisked off to another set of press.
There were so many stars there that unfortunately we didn't get a chance to interview all of them. That is the norm in press rooms, but no worries, the stars we did get the pleasure of interacting with were really great and made me more of a fan of their work. Next, we were graced with the wonderful Daniela Ruah (Special Agent Kensi Blye) on NCIS: Los Angeles, who was 6 mos pregnant at the time. Daniela was so great with all of us, she was just a joy and what made me love her even more was when she spoke to a Brazilian journalist in Portuguese. How amazing is that? The main focus for us was not only her character on the show, but how is it for actresses to work while pregnant. That can always be a tricky situation, especially if the pregnancy is not part of the show. She said that the cast and crew were more cautious than she was (having done this before, she has a son, too). Daniela, on the other hand is still hands on stating that she can still do the tasks that Kensi does on a daily basis on the show. Fearless thy name is Daniela.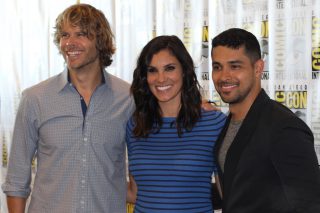 It's always intriguing when you ask about moments in the upcoming season and cannot get an answer because it would be a spoiler. She did talk about her co-star and brother-in-law Eric Christian Olsen and how she learned a lot about comedy and comic timing from him. My question to her was "has becoming a mother changed your acting, has it become more instinctual than before?" Her answer was not only is it instinctual but her emotions come to her more readily, which is a good thing for an actor. She says that it has also brought out a more nurturing side of herself as well, again, another great asset to have as an actor. It was a pleasure having Daniela at our table and wished we had longer, but there were others her needed her to interview her as well.
Next we had the very smooth Wilmer Valderrama come and sit with us. He is joining the hugely successful NCIS. Stepping into a show that is already well established and has such a huge fan base and following can be a bit daunting. Luckily, Wilmer is no stranger to successful shows having been on two of them with That 70's Show and From Dusk Till Dawn: The Series. When Wilmer was first offered the role, he made sure to sit down with the writers and discuss where his character was going to go and what he was going to do.
Wilmer had made it a point to the writers that he wanted his character to "break some shit and light some shit in fire" to which we all laughed heartily. I don't blame him, I would probably have asked the same request. His character of Nick Torres wastes no time in doing just as he requested. He has already made quite an impression in just the short time his character has been introduced. Wilmer called his character a "lone wolf" and doesn't play well with others, which always makes great drama on screen. It has been something that Wilmer said drew him to the character and made him really want to play him. Most of his scenes when he first began in the show were with the already seasoned Mark Harmon who is definitely no stranger to TV. Wilmer praises this veteran for the brilliant actor he is, and rightfully so. Mark is old school in the best way and that is a great base and foundation to helm as show as not only the star but executive producer.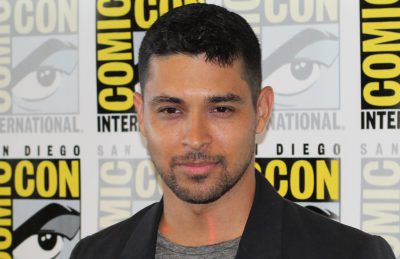 My question was since he just came off of From Dusk Till Dawn how is the atmosphere different from once show to the other? Having Robert Rodriguez as the maestro of FDTD you really are blowing things up and generally just kicking ass or in Wilmer's case sucking blood. It also helps when the two are good friends and the trust is there. You feel a bit safer when blowing things up. Having worked on FDTD I noted that that show prepared him for the transition to NCIS, to which Wilmer concurred that he comes "fully loaded" and ready for whatever the writers give to him. The one great thing (among many) about NCIS is that it is shot in Los Angeles, so he doesn't have to be away from home.
One question that I loved that a journalist asked was about being a Latino actor in the business. Wilmer mentioned that back in 1997-1998 he was the only Latina actor on the FOX network. He said he has seen the evolution of how television and movies "have had to desperately figure out how to actually look like what America looks like. And their challenge is that there is people that this is the recipe, this is what television looks like, but it's not what we all look like". His point is one I have often thought about as a director/writer myself. He said that with CBS now, he has a chance to change that, move things forward to a different place. Wilmer does feel that there are many doors opening now for minorities on major networks, but still not enough opportunities. He did go on to say that studios are taking more interest in green lighting projects by minorities. I, for one, am happy about this. There is still a long way to go in fighting the diversity problem, but I think Wilmer is on the right track and will be a big catalyst for change.
With the rest of the room buzzing, we didn't get all the stars that were in the room, so alas our interviews were not as abundant. I am very happy that I was able to be a part of this great press room and have the opportunity to have both Daniela Ruah and Wilmer Valderrama at our table and lend us their time and wisdom. I look forward every year to great interview opportunities and this was definitely one of them. I hope you tune into CBS and to all the great shows mentioned here, I know I am.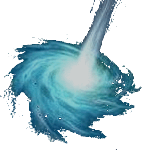 Thank you for visiting WormholeRiders News Agency. And thanks to Kenn for video embedding and additional images for my report. I will be back in the near future with more on my adventures at San Diego Comic-Con 2016!

Please feel free to leave a comment here or If you prefer, you may also click the social media icons below to share this news article or as many of our readers and visitors often do, visit the WHR on Facebook or me on Twitter by clicking the links or images avatars in this news story.
See You on The Other Side!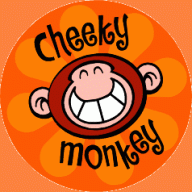 Until next time,
Regards,